While the fabled city of the same name was destroyed and rebuilt many times, Devinci is hoping that a single re-design of their Troy will be all that's required for it reach its own legendary status. The second generation Troy still sports 140mm of travel out back, which is short by all-mountain standards, but it's longer, has a more robust frame, and comes equipped with more of a party-themed build kit than its predecessor ever did. That includes a 150mm-travel Pike RCT3 fork, an 800mm wide handlebar and short stem from Chromag, and a set of 2.35'' wide Hans Dampf tires rather than the old bike's wimpier 2.25'' Racing Ralph rubber.
Troy Details
• Intended use: all-mountain
• Rear wheel travel: 140mm
• Pike RCT3 w/ 150mm of travel
• Wheel size: 27.5''
• New carbon fiber frame
• Adjustable geometry
• Internal cable routing
• ISCG 05 chain guide tabs
• 1X only (alloy frame can do 2x)
• Weight: 28.04lbs
• MSRP: $6,599 USD
Old Troy vs New Troy
The name is the same but the latest Troy is an entirely new animal from front to back.
Devinci says that the old bike was often being ridden by downhillers looking for a trailbike, or just by aggressive riders who wanted a rig they could pedal around all day. Not surprisingly, these riders were outfitting their bikes with shorter stems and wider handlebars, which made it clear to Devinci that the new Troy would have to be designed with these people in mind.
And that's exactly what they did. So while the old medium-sized Troy had a 415mm long reach in the 'LO' setting, the new Troy sports a 440mm reach and comes from Devinci with a shorter stem and wider handlebar.

The rear-end does get slightly shorter as well, at 426mm. That's 4mm shorter compared to the old Troy, and it's possible due to the carbon bike's dedicated single chainring design and Boost hub spacing that provides more clearance.

One figure that does stay the same is the Troy's 67° head angle as that number suits the 140mm-travel bike's intentions as a burly trail machine. Want something slacker? The 165mm-travel Spartan is probably what you should be considering instead.
The new Troy is not only a longer bike, but Devinci is also saying that it's much more rigid than its predecessor thanks to massive carbon tubes that make it clear that it is closely related to the longer-travel Spartan. The rear-end is also all new, with burlier carbon seatstays, new aluminum chainstays, and a stiffer rocker arm that are all said to contribute to a big jump in lateral rigidity.
All that adds up to a slightly heavier frame, with the new version coming in at a claimed 6.13 pounds compared to 6.07 pounds for the old bike, a bump that Devinci clearly feel is well worth it.
Devinci has included all of the expected trappings on the new Troy, from ISCG 05 chain guide tabs to internal cable routing that features large entry and exit ports. The rear-end is made to fit Boost hubs (but not the Pike fork), and an unthreaded bottom bracket shell is home to SRAM bearings and a set of X01 carbon fiber crank arms. There's also a bolt-on shield to keep rocks from leaving permanent damage on the underside of the Troy's downtube.
The Troy's Suspension Explained
Much like its predecessor, the new Troy employs Dave Weagle's Split Pivot suspension that allows the dropout pivot to rotate concentrically around the axle, a design that's said to allow more freedom for braking neutrality to be tuned separately from drivetrain-induced suspension forces. Comparing the original Troy to the new bike reveals slightly altered pivot locations between the two, especially when looking at the new rocker arm that is claimed to add a good amount of rigidity to the chassis. Sure, there might only be a few millimeters difference here and there in pivot locations between the new and old bikes, but the result is more progressive suspension that should make for increased bottom-out resistance compared to the original design.
This could also allow riders to run a setup that provides a slightly more forgiving top-end to the travel, but without blowing through the rest of the shock's stroke when things get a bit wild.

The rocker arm is also home to a built-in geometry adjustment system that, as on a handful of other bikes on the market, utilizes flip-able chips for hardware where the seatstays attach to the rocker arm. These provide what Devinci is calling 'HI' and 'LO' geometry settings, with the latter giving the bike a 67° head angle and a bottom bracket height of 338mm. Going to the HI setting steepens the front-end by 0.4° and raises the bottom bracket up by 5mm.


---
Specifications
Specifications
Release Date
2016
Price
$6599
Travel
140
Rear Shock
ROCK SHOX MONARCH RT3 DEBONAIR
Fork
ROCKSHOX PIKE RCT3 27.5 DUAL AIR 150MM
Headset
FSA ORBIT 1.5 ZERO STACK
Cassette
SRAM 11S 10-42t
Crankarms
SRAM X01 w/ 30t
Bottom Bracket
SRAM BB92
Rear Derailleur
SRAM X01
Chain
SHIMANO 11S
Shifter Pods
SRAM X01
Handlebar
CHROMAG BZA 35 800MM
Stem
CHROMAG BZA CLAMP 35
Grips
DEVINCI PERFORMANCE W/LOCK-ON
Brakes
SRAM GUIDE RSC
Wheelset
DT SWISS M1700 SPLINE 27.5
Tires
SCHWALBE HANS DAMPF 27.5X2.35" TRAILSTAR SNAKESKIN TL
Seat
PROLOGO NAGO EVO X15
Seatpost
ROCK SHOX REVERB STEALTH 125MM
---
Climbing
The Troy has two personalities when it comes to ascending, one of which is a surprisingly adept technical climber that means your only excuse for not cleaning something is a lack of skill. Forks with adjustable travel are a silly compromise and, thankfully, I never felt the need to dial down the Troy's Pike, even when faced with a messy technical climb. While other bikes might call for some serious body English, or maybe even the odd wheel-pivot to weave through a section of BC's best, the Troy wiggles its way through like a little black and white French-speaking ferret escaping its cage by slipping out the smallest of cracks. For a bike that impresses on some seriously rowdy downhills, it is also surprisingly proficient and comfortable when faced with a proper singletrack climb.
But while the Troy can hold its own on the tech, it's not exactly a stallion when you're pedaling up smoother trails or gravel roads. These are times when the Devinci does feel every bit the all-mountain bike that it actually is, which is in contrast to its great technical abilities. It's a bike with very active and supple rear suspension, and while the fork can be firmed up as required, the 'Pedal' setting on the Monarch RT3 DebonAir shock isn't strong enough to make the bike feel as sporty as some other bikes when the rider reaches down to flip the enduro-crutch switch.
Do you spend every day in your kneepads, ride with guys who own longer travel bikes, and pack a Red Bull and Snickers bar in your backpack? Well, then you might not care how efficient the Troy feels. But those who are coming off of shorter travel bikes might not find the Devinci to be especially sprightly.
Descending
Bikes with 140mm of travel are kinda out there on their own in a lonely place. They're a bit big to be considered a pure trail bike, and I'd argue that they're probably a little short-legged to be a full-fledged all-mountain machine, so I wouldn't blame a rider for scratching their head over just what the hell the Troy is all about. That's a problem with us mountain bikers; we always want to try and lump things into categories, and particularly by using how much travel a bike has. And the Troy? It's probably the longest travel 140mm-travel bike out there. How's that for lumping and categorizing?
Devinci says that the old and new Troy have essentially the same bottom bracket height and share the same head angle, albeit with a 10mm longer travel fork on the new bike. Nevertheless, the Carbon RR makes its forerunner feel as if it's three feet off the ground and 5° too steep, such is the difference in handling between the two. With quite a supple first inch or so of travel and an extended wheelbase that can only help make the rider feel more confident, the Troy is one of the better cornering machines that I've been on, something that's no doubt aided by its reasonable weight. It seems to strike a nice balance between the mega-planted ride of a longer travel and heavier enduro race bike, and the fun and flicky attitude of a trail bike.
All of the above makes it a much more pleasant rig to be on than something slacker and even more forgiving when the corners are tight or require abrupt changes in course. It also feels infinitely more playful than a true enduro race bike, but its capabilities still make the Troy the Auto-Tune of mid-travel bikes. Just let it run out and the Troy will look after all sorts of things that would call for some handling skill on other bikes of similar travel.
And what happens when the terrain changes from tight corners to sphincter-tightening? Okay, the Troy is not a Spartan (65.8° and 165mm), Slash, or Nomad, but it feels like way more of an enduro racer than you'd think given that it's shorter on travel and, supposedly, shorter on abilities. I had to search out some seriously rough and fast sections of trail in order to scare myself into thinking that I'd be better off on something with longer legs, and even then it was usually only for brief periods of time; one hundred feet here and there, and I'm sure I was faster overall on the Troy than I would be on a less responsive, longer travel steed. I know I had more fun, anyway, and I'd argue that many other riders would feel the same.
| | |
| --- | --- |
| | It also feels infinitely more playful than a true enduro race bike, but its capabilities still make the Troy the Auto-Tune of mid-travel bikes. Just let it run out and the Troy will look after all sorts of things that would call for some handling skill on other bikes of similar travel. |
The Pike RCT3 helps - we all know how good it is - but the back of the Troy is equally impressive. Awesomely sensitive but with a seemingly perfect amount of ramp-up, I can't find a fault with how it performed for me, at least when it comes to descending. That said, some riders who frequent less demanding terrain could find that it tends to spend a bit too much time deep in its travel when running 30% sag, but the beauty of today's easily tuneable air-sprung shocks makes this a simple thing to sort out.
Technical Report
• Wheels -
They might fly under the radar a bit, but the M1700 Spline wheels have proven to be sturdy enough for some serious riding. They're still perfectly straight, with zero attention being required. It would be nice if they were a bit wider, however, as their 22.5mm internal width forces riders to run a few PSI more than they would be able to get away with if DT Swiss had gone with a more spacious dimensions.
• Shock Talk -
The Troy is more large displacement V12 than an EcoBoost when talking about efficiency, and while the Monarch RT3 DebonAir shock works well, I did find myself wishing for firmer Pedal and Lock compression settings. As it is, the Lock setting is closer to what I'd like to see for the Pedal mode, especially for a rider who will be out all day or is faced with long, boring climbs to the top of their local mountain.
• Wide and Short -
Thank you, Devinci, for not wimping out when it came to the Troy's handlebar and stem spec. The shorty Chromag stem and 800mm wide handlebar perfectly match the bike's fun-loving attitude and impressive capabilities, and those who don't need or want the leverage can simply trim the handlebar down to a more acceptable width.
Pinkbike's Take:
| | |
| --- | --- |
| | The Troy is an interesting bike, one that could easily do double-duty as an enduro race machine for most riders, despite Devinci selling the bigger Spartan for those services. As I said above, it could be the longest travel 140mm-travel bike out there, which makes the Troy a good choice for the rider who doesn't mind a long pedal as long as they end up on some worthy terrain. - Mike Levy |
---
Visit the feature gallery for additional high resolution images
---
---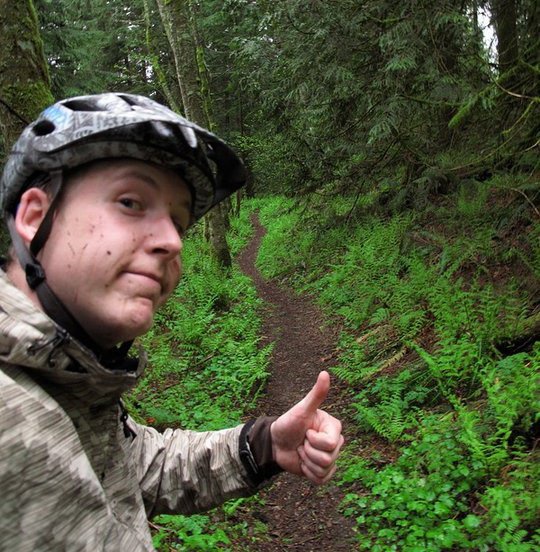 About the Reviewer
Stats: Age: 34 • Height: 5'10" • Inseam: 33" • Weight: 165lb • Industry affiliations / sponsors: None Mike Levy spent most of the 90s and early 2000s racing downhill bikes and building ill-considered jumps in the woods of British Columbia before realizing that bikes could also be pedaled for hours on end to get to some pretty cool places. These days he spends most of his time doing exactly that, preferring to ride test bikes way out in the local hills rather than any bike park. Over ten years as a professional mechanic before making the move to Pinkbike means that his enthusiasm for two wheels extends beyond simply riding on them, and his appreciation for all things technical is an attribute that meshes nicely with his role of Technical Editor at Pinkbike.