Your bike's suspension plays a key role in allowing you to ride faster and farther. The proper setup lets your wheels track the ground better, giving you more traction and confidence when you're pushing your limits on the trail, but it can take time to reach the ideal settings. The first and most important step is to have your suspension sagging into its travel the correct amount when you are fully geared up and on the bike. It is not until you have your spring rate dialed, which determines your sag, that you can start to fully take advantage of your shock's rebound or compression adjustments. While changing the spring rate on an air shock is relatively simple, the job is slightly more complicated on a coil-over model, although it can still be done in only a few minutes.
where we explain suspension sag in detail.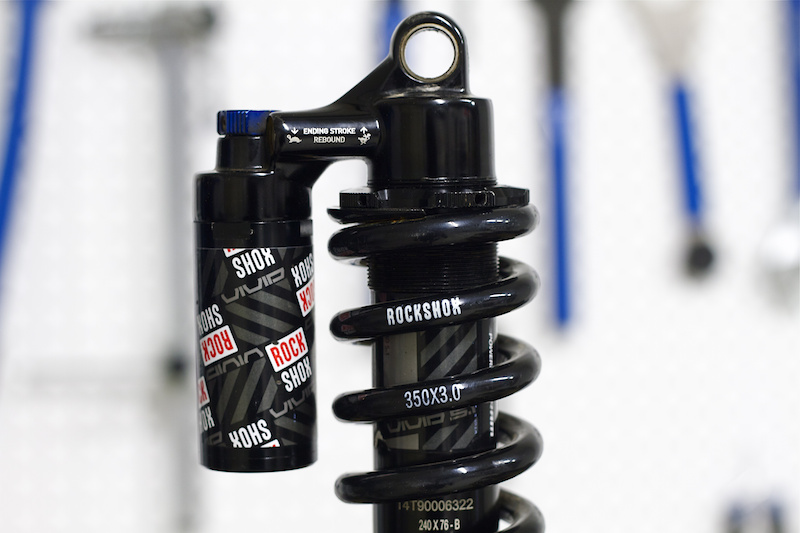 It is very important to be sure that the spring you're installing has enough free space between its coils to keep them from coming into contact with each other before the shock bottoms. There are two numbers on the coil spring pictured above - the "350" refers to the spring rate, meaning that it takes 350lbs to compress this spring one inch. The "3.0" means that there is enough free length, or space between the coils, to use this spring on a shock with 3 inches of stroke. If you were to put a coil designed for a shock with 2.5 inches of stroke on this 3 inch stroke shock the coils are likely to bind, resulting in either a damaged shock body or broken spring clip.
• Always take note of your shock mounting hardware's orientation before removing it, and if need be lay it out on the counter top in order to make re-installation easier.
• Applying a small amount of grease to both the spring clip and preload collar where the coil spring rests can help reduce the chance of creaking as your suspension cycles. Excess amounts will only attract dirt and grime - be sure to wipe away any and all surplus grease.
• A thin layer of grease applied to the shock bolts will make removal down the road much easier, while a touch of blue Loctite on the threads will keep them from coming loose.
• Reinstalling your bike's rear shock is just as easy as removing it. Making sure to install it in the same orientation that it was originally in to keep the shock's reservoir from coming in contact with the frame or swingarm, bolt the shock to the frame before reinstalling the swingarm or linkage bolt. Doing it in this order, especially with the rear wheel removed, makes it far easier to align the shock bolt with the rest of the mounting hardware.
to see their entire lineup of tools and lubes.