Trek has three new bikes on the way, two of them aimed squarely at the cross-country race crowd, and one that's for the trail riders out there. From a distance, all three resemble models that are already in Trek's lineup, but each one has received a number of refinements that keep them on the cutting edge of modern mountain bike technology.
---
Procaliber SL
Trek's new Procaliber SL carbon hardtail takes technology originally developed for the company's Domane road bike and adopts it for use in the mountain bike world. It's called IsoSpeed, and it involves detaching the top tube from the seat tube and then joining the two together with a pivot that allows for up to 11mm of 'compliance'. Trek is careful not to use the word 'travel' in their description of the technology – after all, this is still very much a hardtail, and the rear end doesn't move in the way a traditional full suspension bike would.
The technical difficulty of World Cup XC courses has increased over the last few seasons, causing riders and manufactures to seek out new designs that improve handling with a minimal weight penalty. Weighing in at a claimed 1012 grams, the 17.5" Procaliber SL frame is around 100 grams heavier than the Superfly SL, but according to Trek their racers were willing to take the minor weight increase for the performance benefits.

Designed to be run with a 100mm fork, the Procaliber SL has 29" wheels in the 21.5", 19.5", 18.5" and 17.5", frame sizes, and drops down to 27.5" wheels for the 15.5" frame size, which Trek says is to maintain a similar riding position throughout all frame sizes. All of the bikes use a Boost 148 rear end and Boost 110 front, standards that will become increasingly common over the next few seasons.

Geometry

---
Top Fuel

The Top Fuel is the successor to the Superfly SL, and will be taking its place in the hierarchy as Trek's elite 100mm full-suspension XC race bike. The suspension layout has been changed to use the Full Floater design, the same basic configuration that's used on Trek's longer travel models. Adjustable geometry is also in place via the Mino Link chip on the seatstays, which allows the head angle to be changed by .5° and the bottom bracket height to be changed by 8mm. That might not seem like a lot, but when races are won or lost by milliseconds, the ability to make sure a bike is as well suited to a course as possible can be immensely beneficial.

The 17.5" frame reportedly weighs only 1900 grams, and is said to be stiffer than the Superfly SL it replaces. The highest end model, the Top Fuel 9.9, is constructed with a full carbon frame, chainstays included, while the next model down uses aluminum chainstays Boost 148 and 110 spacing are in place, as is Trek's new Control Freak internal cable routing design that has housing entering on either side of the down tube before exiting just below the bike's water bottle mounts.

Geometry
Fuel EX
The Procaliber and the Top Fuel may be cross-country specialists, but the Fuel EX is more of an all-rounder. Sure, it could probably toe the line at an XC race and do just fine, but it's designed more for trail riding, with 120mm of travel and less pointy geometry than its shorter travel siblings. For 2016 the Fuel EX's chainstays shrink to 436mm down from 452mm, thanks in part to the use of Boost 148 spacing. This made it possible to tighten up the rear end while still leaving enough room to run a 36 tooth front chain ring, along with clearance for a 29 x 2.4" tire.
The bike's overall frame stiffness is claimed to have increased as well, and according to Trek a 30 gram weight penalty resulted in 11% more stiffness in the bottom bracket area and a 14% increase in overall frame stiffness. To go along with the carbon fiber Fuel EX 9.9 and 9.8 models, Trek will also be producing an aluminum Fuel EX 9 model that gets a 130mm Fox 34 up front to relax the head angle even further, as well as a SRAM X1 1x11 drivetrain.
Geometry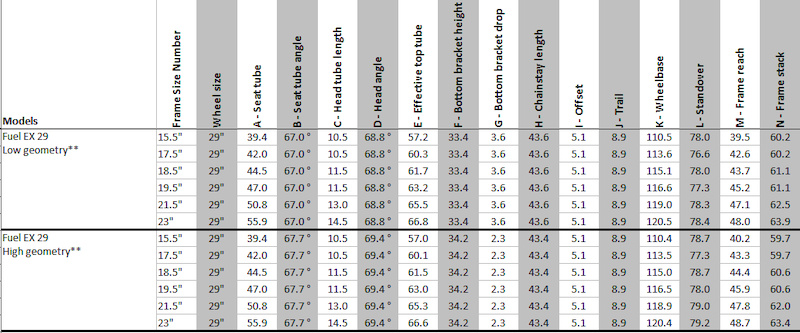 ---
Check out more images here.
www.trek.com
,
@trek