SRAM's Trail House gathering included a lot of sun, great home cooked food - as well as some awesome eats from Hulas - and, more importantly, killer riding. We also spent some time learning about three new products: SRAM's
clutch equipped Type 2 derailleur
, Avid's four piston
X0 Trail brakes
, and the reengineered Grip Shift that you can read about below. Besides getting schooled on the new ten speed twist shifters, including how different it is from the original design, we also spent enough trail time on it to gather a good first impression of what to expect.
SRAM's recent release of their redesigned Grip Shift system greatly polarized riders, with many of those who are old enough to have used the original version being more receptive to the idea than riders who have never had to twist a shifter to change gears. While the tide certainly shifted towards trigger shifters over the last decade, SRAM strongly believes that there are many riders out there who would use an updated Grip Shift system. Enough, in fact, that their drivetrain development team has actually been working on a ten speed Grip Shift system since the inception of XX itself - nearly five full years. That's a long time to be working on a product. "We weren't resisting doing a new Grip Shift," says product manager Chris Hilton, "but the reality is that the current nine speed Grip Shift is over ten years old. We've obviously made a lot of headway on our drivetrain performance in that time." It clearly wasn't an issue of simply adding another indexing click to turn the original Grip Shift it into a ten speed shifter... "When we launched XX 2 x 10, it was a whole new level of performance. Frankly, we didn't feel that the old design was at the same level of performance that was expected from XX. On the other hand, we had some good ideas about how we could make an all new Grip Shift that would really change people's ideas about these shifters.''
| | |
| --- | --- |
| | Trigger shifters were the ''cool'' shifter. So there were a lot of internal challenges to face. Why do a new Grip Shift when everybody rides triggers? Could we justify the expense to develop? And so on. But at the end of the day, there is a VERY vocal and passionate group of Grip Shift users all over the world. Grip Shift was the product that put SRAM on the map. Why wouldn't you do it? The question then became: what do we do to make it awesome? - Chris Hilton - product manager |
Hilton and his team developed the new ten speed Grip Shift over a relatively long time, but it then quickly went through a trial by fire in the most public of arenas, with Specialized's Jaroslav Kulhavy using it to win the 2011 World Championships. "I drove down from our Development Center in Schweinfurt, Germany, with six sets of prototypes,'' explains Hilton ''In case it doesn't mean anything to you, that was the weekend before the Worlds in Champery. These are the first shifters to ever leave SRAM for an outside tester. I handed them to Jon Cancellier (
BlackBox program manager
) in a paper bag as I recall. He went straight to Champery and gave our BlackBox leg-crackers a shot at testing them. One of those sets was on the bike of the guy that won the rainbows that day. Swear to God there were tears in my eyes on the last lap of that race!''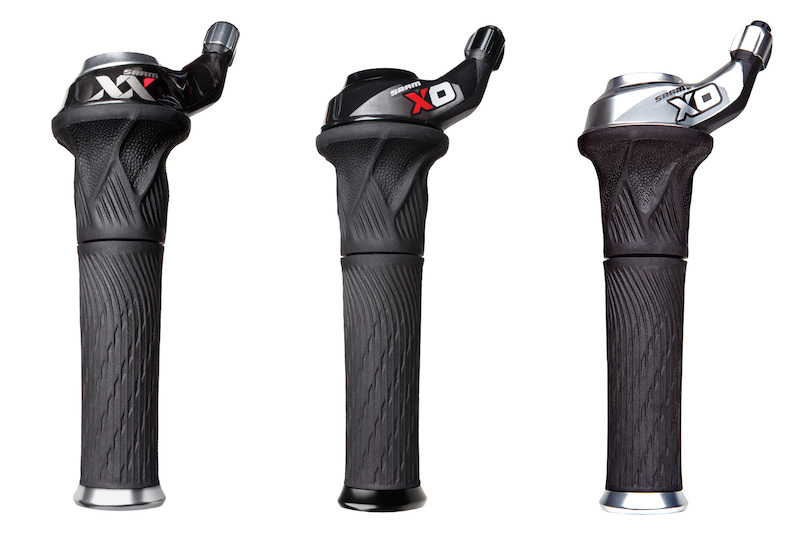 • Ten speed shifters
• Shifter barrel rotates on three rows of stainless steel ball bearings
• 7075 Alloy shift indexing
• Coil return spring
• Weight: 207 grams (
shifters, clamps, cables
), 287 grams (
including interlocking grips
)
• Availability: April, 2012
• MSRP: $225 USD (
X0 Grip Shift
), $295 USD (
XX Grip Shift
)
How are XX and X0 Grip Shift different?
Grip Shift is available in both XX and X0 flavours, although much like ten speed has filtered down to both X7 and X5 levels, we can see it popping up under less expensive model names down the road. Interestingly, there isn't much between the XX and X0 shifters when it comes to weight, with both of them weighing within a few grams of each other. The differences between the two come down to the XX's carbon fiber shift cover - the X0 uses an aluminum piece, and the XX's Ride-On sealed shift cables that come with the XX shifters - the X0's comes stock with standard cables. Both shifters use the
exact
same internals, same hardware, and same grip profile.
The original Grip Shift was a relatively simple unit that consisted of only a few parts: the outer shift barrel, the body, and a flat spring, as well as the barrel adjuster. While its simplicity meant that there was very little to go wrong, SRAM knew that the old Grip Shift wouldn't cut it by today's standards. Inside you'll find three rows of ball bearings that the barrel rotates on, a much more robust setup than the plastic-on-plastic rotating parts within the original, a design that often needed to be re-greased to run smoothly.
Take apart the original Grip Shift and you'll discover that the shifter's indexing was provided by a series of ridges on the inside face of the plastic barrel that passed over a flat spring (that could be either plastic or metal). Over time the plastic ridges would wear out, causing the shifting to feel less defined and with an amount of free play. The internals of the new XX and X0 units make use of a much more refined layout, employing an 7075 aluminum indexing surface for the flat spring to click against. This design should not only provide consistent action in the long run, but also be precise enough to accurately manage the tighter tolerances of a ten speed gearing range. SRAM has also used a coil return spring within the shifter.
Interlocking shifter and grip
There were no such things as Lock-On grips back when Grip Shift was first released, but now it is hard to find a bike on the showroom floor that doesn't include them. And for good reason: they not only prevent the dreaded throttle grip, but also make removing and reinstalling grips nearly effortless. SRAM has designed in a Lock-On system to the new Grip Shift that interlocks the supplied grips right into the shifter, effectively turning them into a single unit. The grip itself is held in place with a clamping collar at its outer end (
just as you'd find on a standard Lock-On grip
), and its inboard end features a flange that clips directly into the the shifter. This not only helps keep both the grip and shifter stationary, but also allows the interlocking section to act as a seal that works to keep out moisture and grime. Want to use your own grips? Not an issue. Simply pop out a ring in the end of the shifter and push in the included blanking ring that now acts as a barrier to mother nature. No tools required.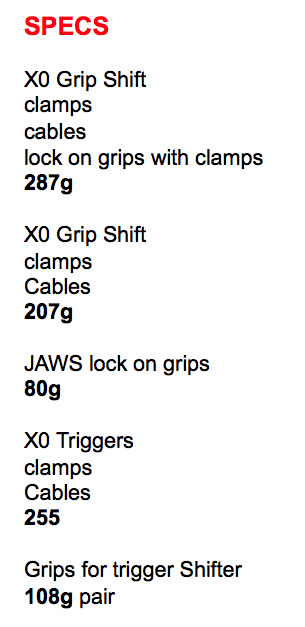 X0 Grip Shift v.s. trigger shifter weight comparison
The X0 Grip Shift system in its entirety, that includes the shifters, all hardware and cables, as well as the interlocking grips, do weigh more than a set of X0 shifters. The total numbers are a bit misleading, though, given that you have to add a set of Lock-On grips to the trigger shifters in order for it to be considered fair. Only when you do that do you get a real picture of the comparable weights, with the totals adding up to show that the Grip Shift system is lighter by 76 grams. That's not much by any means, and certainly not enough to warrant choosing twisters over triggers, but the gram counters out there will likely take it into consideration. Interestingly, SRAM says that the XX and X0 Grip Shift units are within a few grams of each other, this despite the XX's carbon fiber cover compared to the X0's aluminum version.
On The Trail
There has been a lot of chatter about SRAM's new Grip Shift, much of it discussing whether or not it makes sense on a mountain bike that is going to be ridden ridden hard, jumped, and generally pushed harder than you would a standard cross-country bike. Well, that is exactly what we had on tap during our visit to SRAM's Santa Cruz Trail House. Our small group would be riding Yeti's 6" travel SB-66, a full out all-mountain rig equipped with RockShox's Lyric and Monarch Plus suspension units, while chasing GT's Kyle Strait down the mountain. While our first impressions of the new Grip Shift really only count as dipping our toes into the water when comparing our three day visit to a proper full-term test, we feel confident in saying that complications would have shown themselves if there was a fundamental issue with using Grip Shift in an aggressive setting.
So, did we suffer from accidental shifts every time that we hit a jump? Did we have difficulty shifting when we actually wanted to? The answer to both is a resounding "no".
Sitting on the bike at the trail head, with our eyes closed and our hands on the controls, we couldn't feel the transition between the integrated lock-on grip and the shifter itself. There was no 'ridge' to feel, despite the increasing diameter at the grip and shifter where the two meet, and the rubber shape of the shift barrel feels like it would be more than comfortable enough for those who don't ride with gloves. We can't say how this would feel over the long haul, but turning the barrel with bare hands didn't feel uncomfortable. Part of this easy feeling is down to the system's lack of required shift effort - it needs much less effort to turn the shifter barrel than what was found with the original design. This is especially true of the front unit, with it feeling much smoother and less restricted than the old system's plastic-on-plastic internals.
While the shifters rotate quite easily, the indexing is very SRAM-esqe. There is a solid "ka-chung" that accompanies each shift, and the indexing was strong enough to prevent us from ever over-rotating the barrel and shifting more than we intended. That's right, no mis-shifts regardless of any jumping and generally riding the SB-66 like a hooligan. Part of this is down to the the shifter's postion on the bar, something that we see many Grip Shift users tuning to their needs. Both the XX and X0 Grip Shift systems come with integrated grips that lock into place within the shifters, but the grips also put the shift barrels in a predetermined position relative to your hands. This stock postion may be a bit to far inboard for some, requiring one to slide their hands in ever so slightly to make a shift. We can see many riders setting up the shifters with a shade shorter grips - think of it as tuning the shifters postion, very much like how you would position a trigger shifter relative to the grip and hand postion - with different riders likely end up with a moderately different setups that work best for them. We also bring this up because we quickly discovered that we're not big fans of the stock grips that the system comes with. Their rather large outboard Lock-On collar ended up resting right under the very outside edge of our palms. It will also be interesting to try the new twist shifters with another brands brakes, although SRAM says that they don't anticipate any compatibility issues.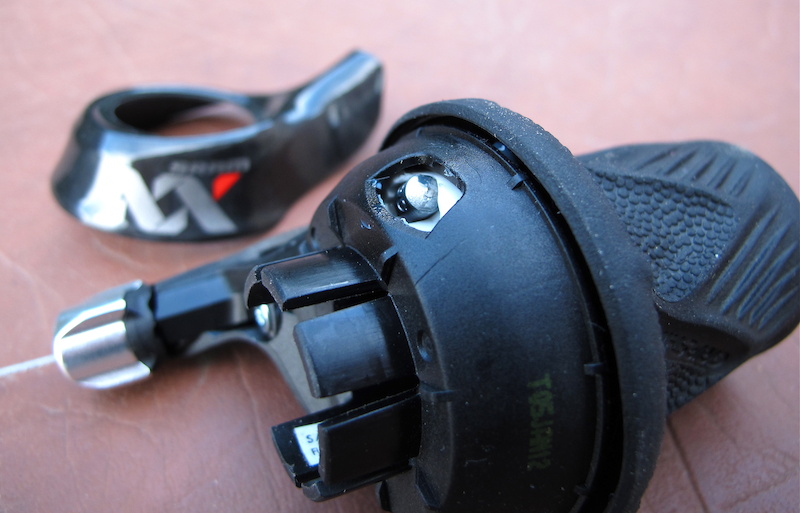 Anyone who had to install a new cable in the old Grip Shift shifter knows that it involved looping the new cable around the barrel before feeding it through the cable channel, all while keeping it from un-looping as you slide the cover back into place - a sometimes tricky task. SRAM says that they have greatly simplified the job with the new Grip Shift, and we gave it a go to see just how much easier it actually is. You start shifting to the highest gear and loosening the inboard lock-on collar (
the one that keeps the shifter from rotating on the bar
), slipping it off of the split flange. This allows the cover to be removed, giving you access to the cable port on the shifter body to let you push the old cable out or slide a new one in. The process is exactly the same for both the front and rear shifters, and is both much easier and quicker to do than on the old model. In fact, we'd say that it is actually easier to swap a cable on Grip Shift than on their trigger shifters.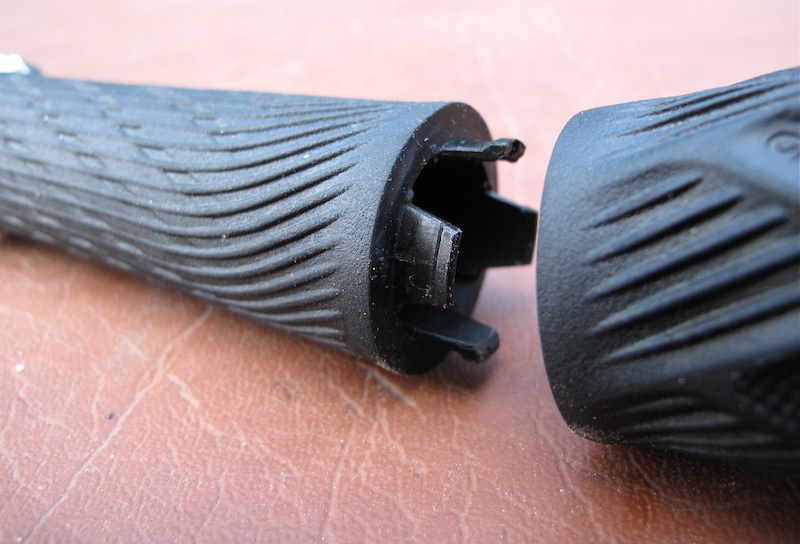 Both the XX and X0 level shifters use the exact same grip interface that sees the left and right grips lock into place within the shifter body. Think of the entire system - both the shifter and the grip - as a one piece lock-on unit. SRAM is well aware that many riders will want to use their own grips, though, and have designed a system that allows users to slip in a interchangeable ring that plugs those slots when using standard grips, keeping the system's inner workings protected from the elements much better than if the regular grip was simply pushed up against the shifter. We expect different Grip Shift compatible lock-on grips to be available from aftermarket companies in the future, or riders could simple cut down their favorite Lock-Ons to the appropriate length. Using grip length to tune the shifters postion will be vital to attain the best ergonomics for rider's hands.
Our first few days on SRAM's new Grip Shift showed us that the system hasn't been engineered for use solely on sub-20lb European hardtails being ridden by weight conscious racer boys, but rather on proper mountain bikes as well. The above words shouldn't be taken as a true test, though - it was only a few days after all - and there will undoubtedly be riders who will never turn their backs on trigger shifters, but we're looking forward to putting some time on the system with it fitted to our own bikes. Stay tuned for a proper longterm review a bit further down the road.
Photos by Adrian Marcoux
www.sram.com