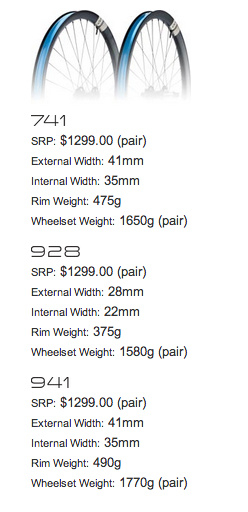 Welcome to the wide world of Ibis wheels and rims, what we refer to as The New Normal and The New Wide. The 928 is a 29er rim with 28mm width that delivers enhanced tire stability and high strength at low weight. The 741 and 941 are 27.5 and 29er rims with monster 41mm widths that deliver super tire stability even with large tires at low pressure. The 741 and 928 are available as optional upgrades on the Mojo HDR 650b and Ripley 29 now, the 941 is scheduled as an option for the Ripley beginning next month. We anticipate that these wheels will be availalble in the aftermarket in June.

Wider rims are better than narrow rims. A wider rim delivers better sidewall support so you you can run lower pressures in your rubber. Lower pressures do several beneficial things, including increasing the contact patch, which results in better traction. Tires mounted on wider rims don't burp as easily. Running lower pressures on varied terrain actually reduces rolling resistance. Wider rims are stronger and stiffer. With increased traction comes increased braking control.

In 2013 the first wide carbon fiber rims came out, called Derby Rims. Derby is our good friend and in fact Ibis liked his idea so much we funded half the original tooling expense of these rims. Having access to the Derby Rims proved invaluable in testing for our own concepts and designs. Derby's rims are made in a different factory than ours, as we will be needing a much larger quantity than his source can provide. For now, we will only be selling complete wheels, so if you're looking for rims only, we heartily endorse the product that Derby is selling. If you can get them that is, Derby Rims have been regularly selling out each production run.

''You can't have too much traction'' - Ancient mountain bike proverb.
Dramatically Increased traction
Wide rims support the tire's sidewalls better, allowing lower pressures without the tires folding over or burping. This dramatically increases stability and traction. This shows up as faster cornering and braking, better grip in all conditions. How much lower pressure can you go? In general, for a given rider, using tires you've used before in a given locale, you will be able to run lower tire pressures with wider rims. How much lower can only be determined through experimentation. Typically, riders are running 4–6 psi less than normal. Light riders on moderate terrain are running as low as 15-17psi.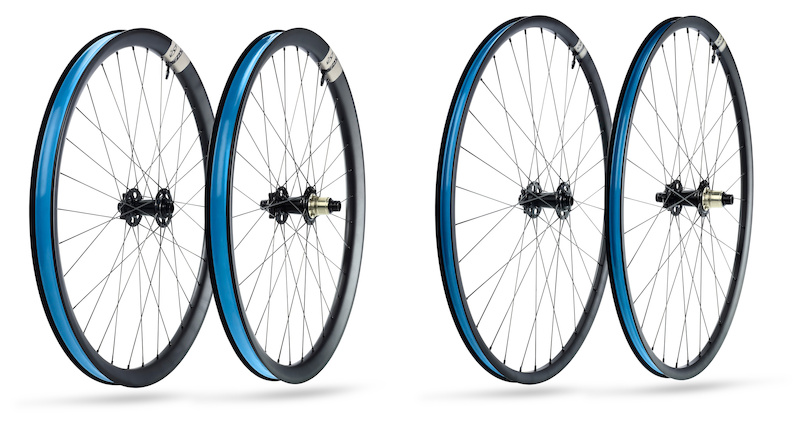 Tires: Go Big, Go Small
Big
- If gravity is your thing, bigger tires and lower pressures equal more traction. The problem is, you can only go so low with large tires on narrow rims before they become unstable. Enter the wide rim. Select the pressure you want without having to over pressurize the tire to control stability and burping.
Not-so-big
- If you're leaning more toward XC use, you can actually go down one tire size and achieve the same or higher levels of traction and performance, only at a reduced overall weight.
Less Tubeless Burping
Wider rims dramatically reduce the incidence of burping. With wider rims the tire sidewall can't exert as much force on the bead to unseat it and allow air to escape.
Low Pressures Equal Low Rolling Resistance
"
Anyone who wants to ride really fast off-road needs to decrease tyre pressure. The rougher the ground, the more pronounced the effect. Traction and comfort increase too,
" said Peter Nilges, Editor, Bike Magazine (Germany) Our wide rim profiles provide better sidewall support, allowing you to run lower pressures with no ill effects. More from Peter's university thesis: "
Any such unevenness means that part of the forward propulsion force is required to lift machine and rider upwards. This is equivalent to riding a short uphill grade that requires a certain amount of lifting energy. A tyre with less inflation can adapt to unevenness more easily. The total system needs to be lifted to a lesser degree and less frequently. Resistance is reduced, less power is required.
"
Read the great article here

Hookless Bead Rims are Far Stronger
Impact damage is the way most carbon rims die. The rim we've designed is much stronger in the area where impacts occur since it's a solid rectangle instead of an inverted "J". This spreads the impact out over a larger area that is also supported by more material. We tested the impact strength of several major brands of carbon fiber rims and discovered that the change to hookless bead was a major advantage in impact strength. We also optimized the layup to further increase strength. In the end, our rims are 50 to 300% stronger in impact than competing rims we measured. We don't want to throw anyone under the bus, but we do want you to know that these are well-respected and well-known manufacturers.
Stiffer and Lighter
The switch to carbon fiber as a rim material has allowed us to build a 475 gram 41 mm wide rim, which is lighter than the much smaller and weaker alloy rims it replaces. The 928 is 100g lighter and several times stronger than alloy rims of the same size.
More Predictable Steering
Without wallowing sidewalls, and with dramatic increases in rim stiffness and contact patch area, the front end of the bike feels more precise and firmly planted than it ever did before. The difference is even greater than the improvements that came from tapered steerers and through axles in recent years.
Tire Fit
We've carefully sized the bead area so that it's easy to mount and dismount most tubeless tires by hand. Many tubeless tires will inflate and seat with only a floor pump.
History Repeating Itself
Mountain bike rims were not always narrow. The venerable Araya 7X, a popular rim from the '80s, was labeled 26x1.75" and had an inside width of 25mm. That gives a tire to rim inner ratio of 1.78. A 2.35 tire on a modern 19mm gives a ratio of 3.14, even higher than our 3:1 outlier number mentioned above. A 2.35 tire on our 741 rim results in 1.73:1, back to the original Araya number. Read more about the history on the story tab to the right.
What to Expect
The 41 mm wide rims typically increase the tire width about 3 -5 mm at the widest part of the casing. The diameter stays about the same. The shape of the tread cap will be flatter as well. The 741 and 941 change the shape of the tire and you will want to select a tire that has a good profile on the wider rims. Generally we have found that tires that start with a rounder profile across the tread cap work the best.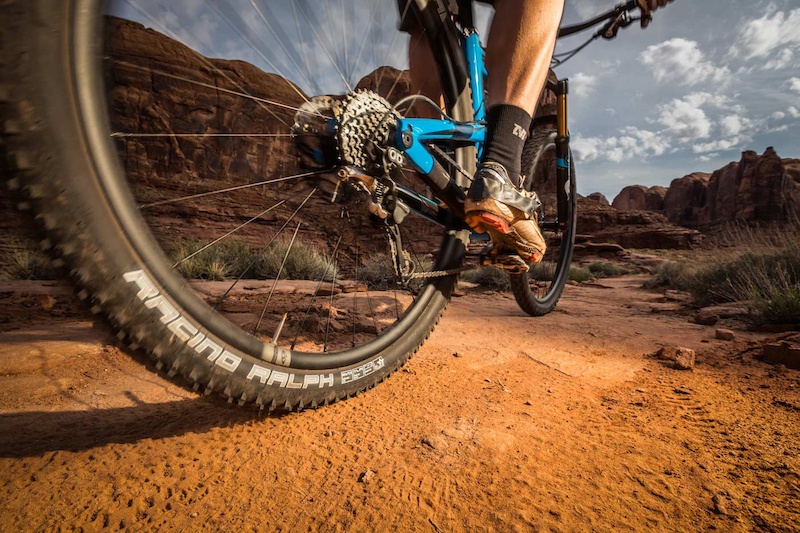 ibiscycles.com/wheels