Images:
Luca Cometti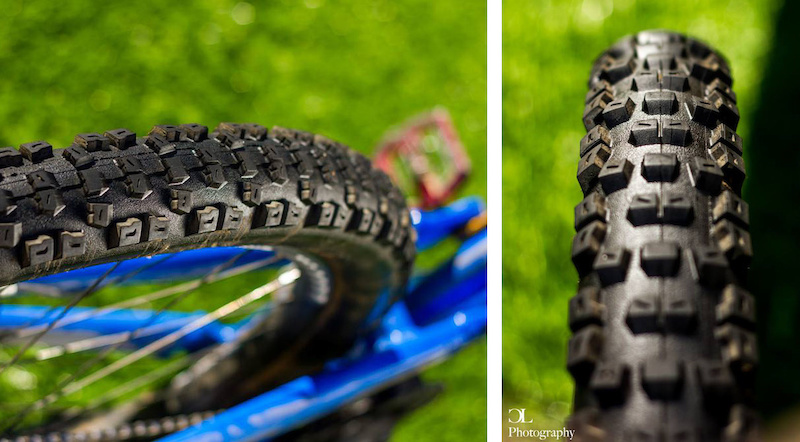 Hutchinson's choice of a slightly more rounded tread profile while retaining the pronounced row of edging blocks that can be found on the most popular gravity tires provides more consistent cornering grip.
Hutchinson

launched its redesigned Squale in June, 2013 as a lightweight downhill and enduro racing tire. Much of the input for the Squale came from Mick Hannah, who races the 2.5-inch version on World Cup venues where a lighter, faster-rolling tire will give him an advantage. The new Squale uses Hutchinson's "Race Reposte" three-compound tread, but only two of those materials appear on the tread surface. The pronounced edging blocks are molded from soft, 42 Shore-A rubber, while the lower, angled center tread is made from 50 Shore-A hardness rubber. The third compound is a harder material that is tucked under and into the tread and its purpose is to stiffen and reinforce the tread, so the soft-rubber tread blocks can develop full traction under high-pressure turning and braking without folding or distorting. The casing is a two-ply design with 66 threads per inch and Hutchinson offers the Squale with both wire and folding beads. Sizes are 2.3 inches in all three wheel diameters, with 2.5-inch widths available in 26 and 27.5 inches. We tested the 27.5 x 2.5-inch version, which weighed 1060 grams, and comes with an MSRP of $89 USD.
---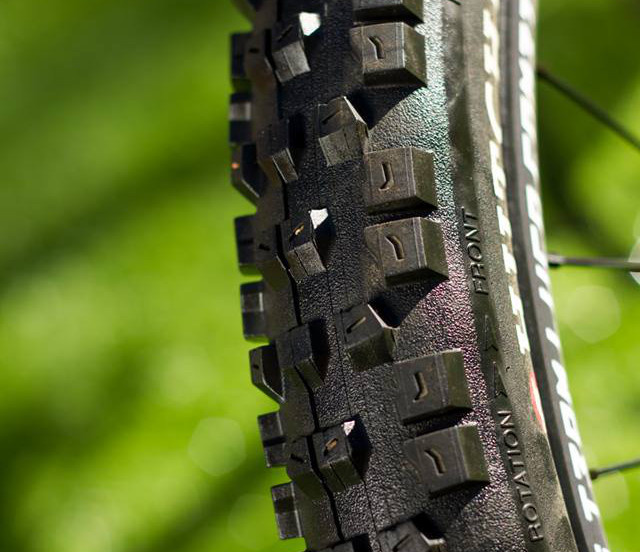 Specifications:
Purpose: DH and Enduro - mixed, dry and rocky terrain
Casing: Tubeless ready, Hardskin reinforced, 66 TPI
Bead: Folding
Tread: Race Reposte, two compound tread with reinforcing under-layer
Size Tested: 27.5
(650B)
, 2.5-inch
Diameter: 28.125 inches at 32 psi
(715mm)
Width: 2.36 inches at 32 psi
(60mm)
Weight: 1060 grams
(measured)
MSRP: $89 USD
Contact:
Hutchinson Tires
---
Construction
Hutchinson manufactures its tires in its own factory near Montargis, France, where it controls every step of the process from mixing and formulating the rubber to molding the tires their final shape. The two ply casing is constructed with 66 TPI fabric that is further reinforced against punctures and abrasion by a dense layer of nylon-like material from bead to bead. Hutchinson calls that layer, "Hardskin." The bead design and casing is tubeless ready, and because Hutchinson pioneered tubeless for cycling, you may be assured that the Squale will mount to any worthy rim.
The tread design is pretty straight-forward, with seven-millimeter edging blocks lined up like a castle wall on either side of the tire and with shorter, five-millimeter blocks in the center that are angled to reduce rolling resistance. Whether or not the treatment is functional, Hutchinson added a rough surface finish on the rubber between the tread blocks to further enhance the tire's grip on wet rocks and roots. The tread profile, when mounted to DH-width rims, is sightly rounded - a bit less than a Schwalbe Hans Dampf and more rounded than a Maxxis HR II.
The most interesting aspect of the new Squale's design, however, is that Hutchinson figured out a method to internally reinforce the tread blocks during the molding process. Normally, tall edging tread made from super soft 42 Shore-A durometer rubber would be too flexible to stand up to hard cornering. Hutchinson, however, figured a method to mold an under-layer into the tread, made from a harder durometer rubber, that reinforces the tread blocks. As we were to discover later, that process was key to the tire's performance.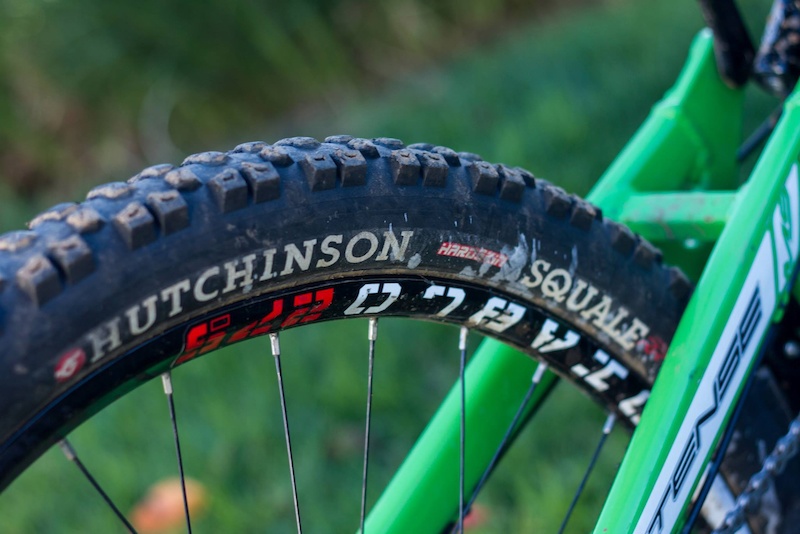 We put a lot of wear and tear on the Hutchinson tires, burning through two pairs during the test period. You wouldn't guess that they were durable by looking at this image, but Squales will outlast most popular DH tires.
Ride Review
We reviewed Hutchinson latest gravity tire in the type of situations where it was rated to perform best - rocky, dry soil and mixed conditions - on DH trails, and at nearby DH races. Most of the riding was done on Intense 951 EVO that was previously shod with Maxxis High-Roller II tires. At the races, the Squales put in a top five in the Pros against some heavy hitters, and on trail, they proved to be one of the better DH tires we have ridden.
Setup
: We ran the Squales tubeless for most of the test period and they mounted up with a floor pump on Novatec Diablo rims, sealed with Gorilla tape and Stan's fluid.
Grip:
Hutchinson's under-tread rubber made a difference, giving the Squale tire a more predictable feel in the turns. When pushed hard, where a High Roller II's edging blocks begin to fold over, the Squale's are still holding a line. Braking traction is excellent until the trail gets super steep, and then the grip falls off a bit. It took wet, super tacky conditions for us to be able to find the limits of the Squale's edging blocks. The transition between the center and edging blocks, while not seamless, is about as good as it gets for a DH tread.
Rolling resistance:
The consensus was that the Hutchinson tires roll faster than the rest of the HR II clones, meaning tread patterns that feature shorter, angled center blocks and an aggressive edging pattern. They were snappy under acceleration, but more impressive, was how well the tires carried speed between technical sections of the tracks.
Durability:
We only had two flats after running two pairs of tires into the ground. The first was when we pinch-flatted the one and only time we ran an inner-tube and the second instance was when we cracked a rim and that was not the fault of the tire. Considering that most of our riding was at speed in rocky terrain, that is a remarkable score. In the wear department, the DH race member of the test team said that the Squales were the longest lasting DH tire he has used. That said, he could burn through a set in three or four weeks.
Issues:
There are a lot of gravity riders who believe staunchly in tubes and, although we only had a single instance to use to form this opinion, may want to consider a heavier tire with a built-in anti-pinch-flat sidewall strategy. Hutchinson states that the Squale is designed to perform as a lighter-weight alternative for a DH tire and we would agree that it fits this role.
Pinkbike's Take:
| | |
| --- | --- |
| | Hutchinson's new Squale tire is a winner and a welcome addition to those of us who ride 27.5-inch wheels. We'd recommend it to enduro racers seeking a fast rolling tire with the cornering grip and durability of a DH design, or to a DH racer who needs a lighter, faster tire for venues with more pedaling than usual. For the rest of us, the new Squale, with its predictable feel in the corners and lively sense under acceleration, is a hell of a lot of fun to ride. In its quest to make the ultimate racing tire for high-speed World Cup courses, Hutchinson may have accidentally invented the perfect tire for weekend gravity warriors. - RC |