The prototype Morpheus looks nothing like the current crop of small tubed, steel hardtail frames that are commonplace at most dirt jump spots and comps. Keep an open mind and look beyond popular frame fashion and you may see a fresh design that can brag about an extremely short rear end and astonishing top tube clearance.
Morpheus Cycles in NYC is embracing the concept of creating bikes that further the capabilities of the person riding that bike. It a bold statement, but it is hard to criticize when you take a close look at their new DJ Prototype. With chainstay options ranging from 14.5 to 16 inches the frame can be tricked on the dirt jumps or raced competitively on a slalom course. According to Morpheus, the prototype shows class leading potential in areas such as reduced weight, lateral stiffness, top tube clearance and of course, chainstay length. The new Morpheus at first glance, appears to be a trials frame reworked by aliens and then sent back to earth. Let's take a closer look into the concept, meet the designers behind it, and the riders who are helping bring it to life.
Action sports are evolving so fast that in practically every sport from snowboarding to gymnastics people are doing more spins and flips than the year before. Michael Schwartz (
owner/founder
) of Morpheus Cycles started to study the tuck in various action sports and created an unorthodox approach to jump bike design. The concept was to developed a 26 inch frame that was as compact as most 24 inch dirt jump frames. The geometry requested by the factory riders created major challenges, but Mike and Chief Engineer James Trimble took the geometry requests and shattered them. On the way toward beating every single spec request of the team, Mike and James created some very interesting proprietary features as well.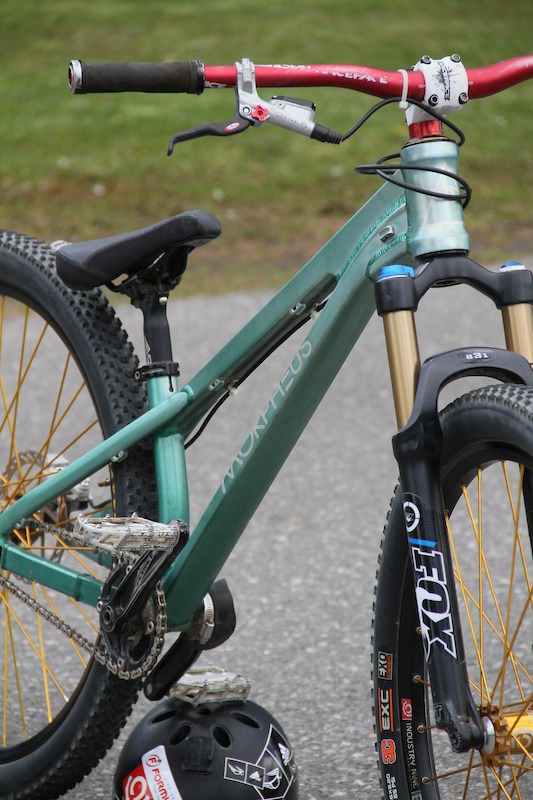 The bike's designer, James Trimble, set out to create a 26-inch-wheeled frame that is as tightly packaged as a 24-inch dirt jumper.
James Trimble, Chief Engineer of Morpheus Cycles, has little to prove at this point is his career, yet his innovation still impacts the industry. James is arguably the first person to ever create a bike frame out of carbon fiber. In addition, his Trimble racing frames have been banned from the UCI for being too aerodynamic. Turning yet another page, James and Morpheus collaborated to create another ground breaking platform with several proprietary features. The simplicity of the rear dropout designed by James, currently nick named "
Telescopic Rear Dropout
," provides a wheelbase range between 40.5 and 42 inches. The extended dropout also creates a cantilever effect that is claimed to provide a reduction of harshness upon impact. Morpheus has asked us not to disclose some of the minor details relating to the construction of the dropout system, but promises to provide full details prior to the bike's release in December. Other proprietary features designed by James exist in details of the bottom bracket and hollow, CNC-machined reinforcements welded to the bottom bracket shell. James claims that the production version of this frame will be more laterally stiff than any of its competitors.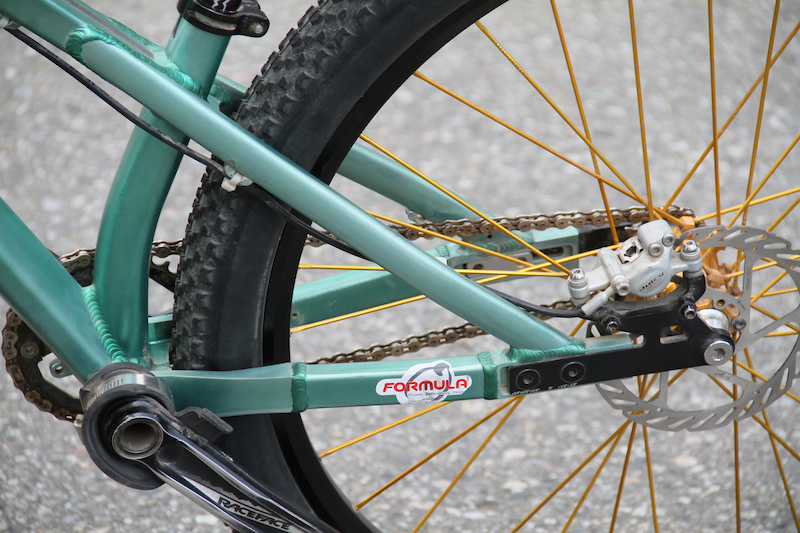 The Morpheus chassis has an extraordinarily short rear end.
Of course a prototype is meant for testing – Morpheus created three identical proto's and got them out to several pro-riders and everyday dirt jumpers putting them through the works – pump track manuals to 360 double whips in competition. All the feedback has gone into several changes as they get ready to create the second prototype – a sketch of which you can seen below. Some of the specs and changes from the first to the second proto are: The top tube length increased to 22.2 inches – the top tube angle has also become slightly less drastic – all making for a more comfortable feel in the cockpit. The wheelbase has been lengthened by 1 inch making it adjustable from 41.5 to 43 inches - this will help to increase high-speed stability and slalom racing precision. The head angle has been slackened by half of a degree ensuring the bike is gravity friendly at 68* even. Morpheus also shortened the chainstay to be adjustable from 14.3 – 15.8 inches. The second proto will accommodate all 2.5'' tires, rather than a 2.35''.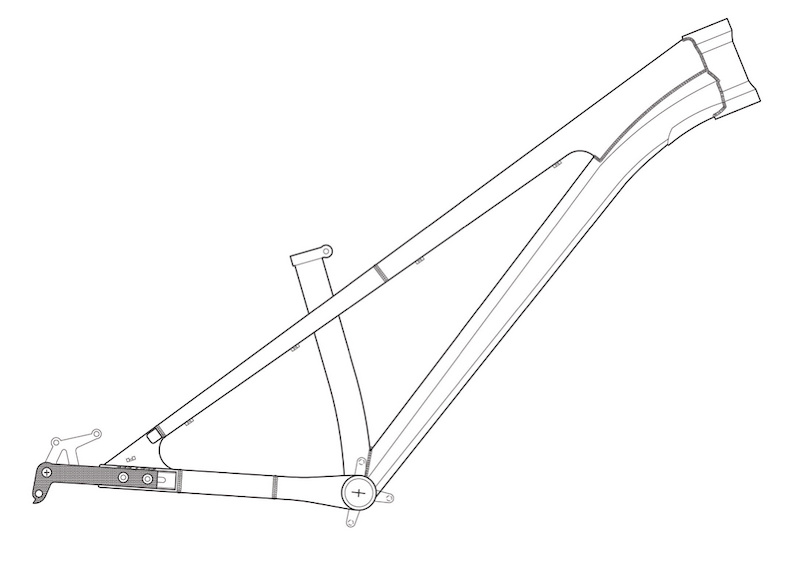 The second generation of the Morpheus Cycles prototype features a number of geometry changes.
As far as some of the concerns Morpheus has gotten from people on the sturdiness of their Telescopic Rear Dropout design – Morpheus' technology is holding up. Rather than just an attached weld on the TRD, they now have a CNC piece that is welded across the entire distance above the dropout. This not only increases strength, but also increases torsional rigidity by at least 40%. As far as the adjustable piece itself, they use a very unique hard-coat aluminum,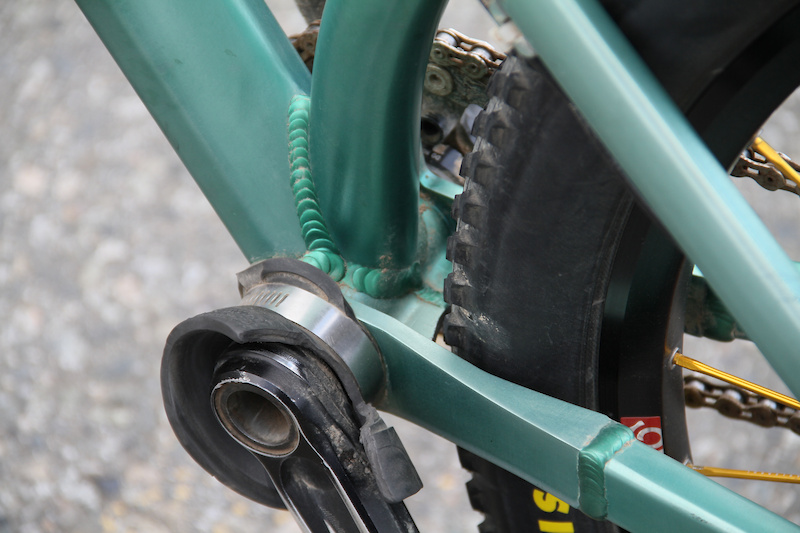 A clever arrangement of machined pieces and tubing allows the rear wheel to be tucked in extremely close to the bottom bracket shell.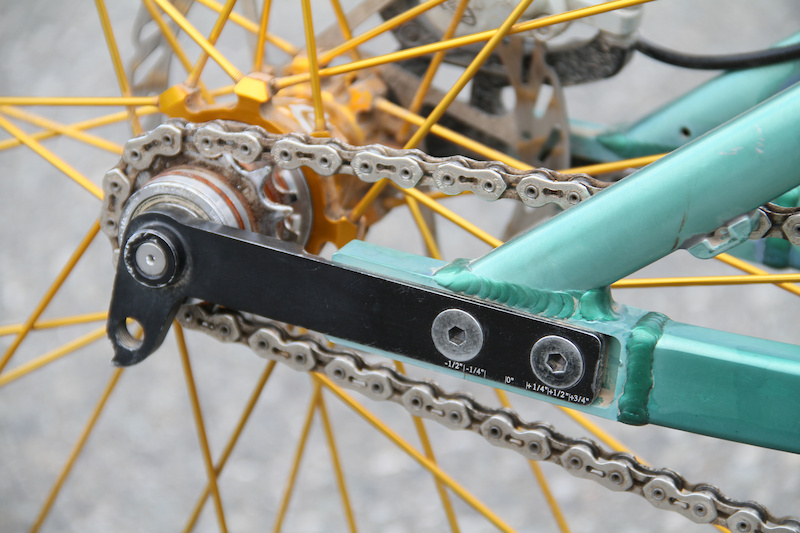 Sliding, adjustable dropouts have been around for a long time, but Morpheus Cycles takes it to the extreme with their Telescopic Rear Dropout that allows the rear end to dirt jump friendly at just 14.5 inches, or set up for racing at a full extension of 16 inches.
After his big win over the weekend at Jamie Goldman's comp we caught up with Morpheus Factory rider Mitch Chubey and he told us the following about the prototype:
| | |
| --- | --- |
| | It's rolling everything so smooth and because it's such a short and light bike it's easier to spin than any bike I have ridden. It was so sketchy three weeks ago when I got it and then after a couple rides I was able to adjusted to it. It was a more dramatic evolution from our current steel jumper than I had prepared for. Now that I'm adjusted to it, it is completely blowing my mind. It's 23.6 pounds right now with dirt on her and I'm not even sure that should be competition legal. |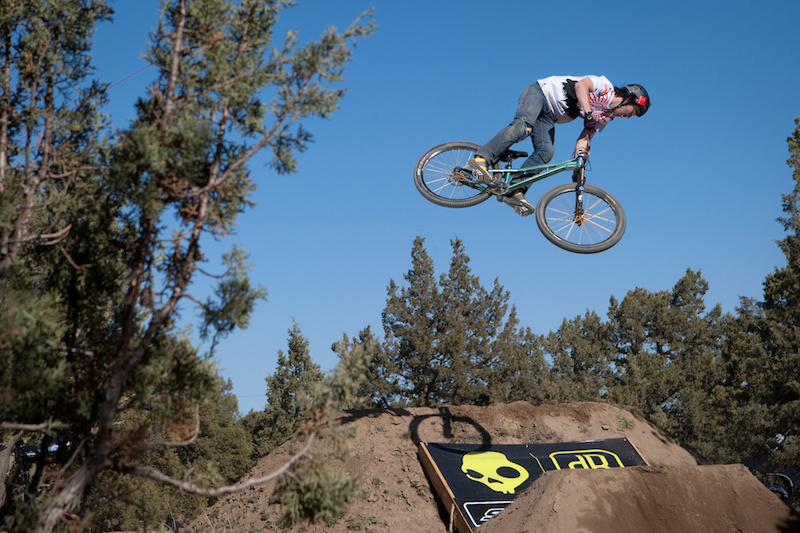 Morpheus Cycles' Mitch Chubey spinning his way towards winning the Upside Down and Underground contest on his prototype. Photo by Justin Olsen
Stay tuned for more details of the "
Name the Morpheus Dirt Jumper Contest
" in June. The winner will receive serial number 00001 off the line, custom hard coat anodized with color options FREE. Check out the
Morpheus website
for more information.
Pinkbike's take:
There is no denying that the prototype Morpheus is vastly different from what is popular right now, that being simple looking, steel framed dirt jump bikes. But it looks to offer a shorter rear end than you'll find on the majority of other frames, more stand-over clearance and it has the potential to be lighter as well. Mitch seems to be getting on with it quite well, as he proved by taking the win at Goldman's Upside Down and Underground contest recently, but I suspect that some less open-minded riders will be more set on how the prototype frame looks instead of any advantages it can offer.
Let's hear what you think of Morpheus Cycles' prototype DJ frame - are you a fan of Morpheus' boundary pushing dirt jump frame?