Shimano have something of a checkered past when it comes to affordable, heavy-duty drivetrains. Their Hone group comes to mind, with its non-standard derailleur mounting that very quickly (and thankfully) went the way of the dodo. So when we agreed to test the Zee mech, our first question was: "Will it work with my regular dropout?" It does. For the few who are not familiar with
Zee
, it is Shimano's affordable gravity groupset that some refer to as 'Saint Light' and it has become a popular offering on mid-priced bikes.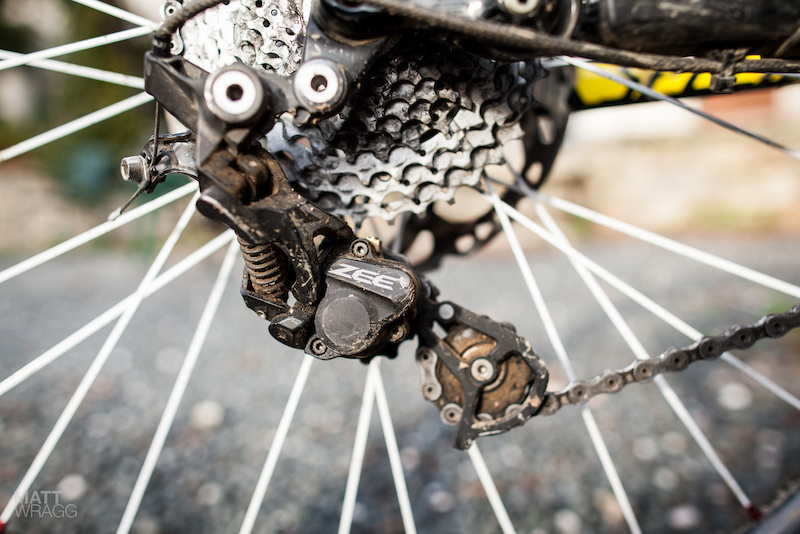 Zee is Shimano's affordable gravity groupset - here is our battle-scarred test mech.

A wide-range Zee on the scales, vs. an XT long cage mech.
Shimano Zee rear mech details:
- Short cage only
- 10-speed only
- Shadow RD technology: Super low-profile design with clutch chain stabilizer
- DH spec - 28T Capacity
- Freeride spec - 36T Capacity
- Weight: 270g
- MSRP: $115.48 USD
Details
There are two versions of the Zee mech available and you need to make sure you get the correct one. There is a DH version, designed for close-ratio cassettes, and a FR one that works with up to 36t cassettes. This is one of the big differences between this and the Saint mech, which comes with an adjuster allowing you to easily switch between the modes. Aesthetically, yes Saint is a bit prettier, but the main difference is that the Saint uses a massive, wide-spaced parallelogram, while the Zee derailleur shares the more compact design of the XT mech. As for weight? Well, Shimano states the weight of its Saint mech at 280 grams. Our wide-range Zee weighed 270 grams. If you are using your Zee for Enduro or AM use, that's 12 grams more than Shimano's XT Shadow-plus mech - and $25 less.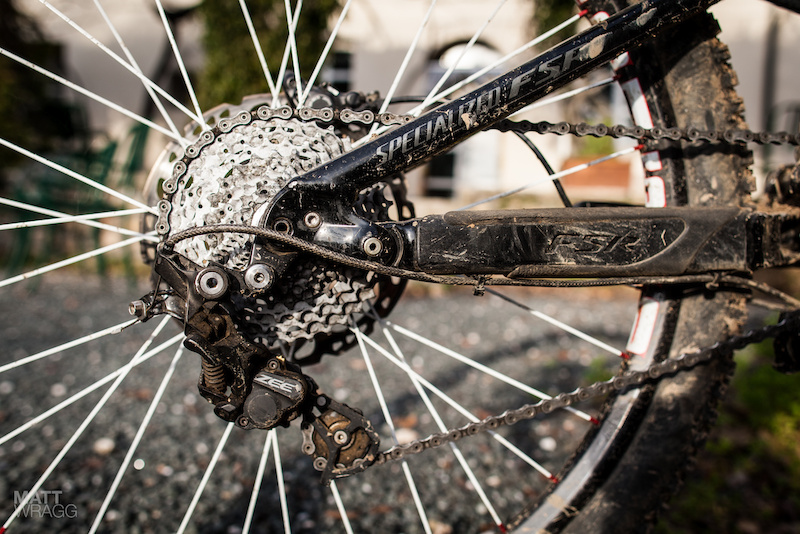 We used the wider-range freeride version with an 11-36t cassette.
Setup
The Zee mech is compatible with all of Shimano's ten-speed components, so we ran it with an XT shifter, because it's what we were already running. The mid-cage derailleur was paired with an 11-36 cassette and a single-ring crankset. There was no drama regarding setup. We more or less threw it at the bike and it started working fine. It is a 10 speed, so as always, it takes a little bit of fine tuning to get the gears dialed.

Some close-ups of the beating our test mech took, and survived. On the left you can see the gouges in the body and on the right, if you look closely, you can see how far bent out of line the cage became.
On the Trail
It is immediately noticeable how good the Zee mech feels with the XT shifter. Gone is the ambiguous lightness of Shimano from years gone by, replaced by an incredibly solid, positive feeling. Having ridden a few different options on different bikes since setting this up on our long-term test, we find ourselves coming back to this setup and appreciating how good this combination is. In a blind test you'd be hard pushed to pick this out as a cheaper option. Here at Pinkbike we are big fans of clutch mechs and this Zee is no different - it isn't when you use a clutch derailleur that is the big deal, it's if you go back and try to ride a bike without one that you realize just how good they are and the Zee is everything we hoped it would be in that regard - quiet running and precise shifting.
Where the Zee mech really stands out is in terms of survivability. It was with the 2012 XT derailleur that we first noticed that the current Shimano mechs keep working well past the point when you'd expect them to fail. That XT mech was scored, grated and slightly twisted, but it kept going. This Zee mech goes another step beyond that. Just after fitting it, we were riding with it at Lenzerheide, in Switzerland. Coming through the boulder fields, there were dozens of rocks protruding at about derailleur height. Eventually, a few of them hit home and a couple of them were big hits. We were sure we would look back to see a small pile of twisted metal hanging from the dropout, yet it kept working. Looking at the mech at the end of the week there were a number of big gouges on the body and it wasn't what you'd call straight, but it still changed gear every time you pressed the lever. OK, the indexing wasn't perfect and if you are the kind of person who likes your bike to be
just so
it would probably have upset you greatly. For us, it's reassuring that you can be more confident of making it home, no matter what happens. If payday is still a few weeks away when you hit your derailleur, you can keep riding, even if it isn't perfect (or if you're lazy like me you can just keep using it as it is for months). And that is impressive.
Pinkbike's take:
| | |
| --- | --- |
| | We can't help thinking Shimano have shot themselves in the foot with the Zee rear derailleur. After using the Zee mech for a while we are hard-pressed to offer a reason why you would buy the more expensive Saint. It's well-priced - $115 buys you one of the toughest mechs we've ever used. - Matt Wragg |
Shimano