While we had some early concerns about gearing range and chain retention, SRAM's single-ring XX1 drivetrain has proved to be a game-changer. The group's 10 - 42 spread cassette provides an ample gearing range - so long as you've chosen the correct X-Sync chainring size to use with it - and the 11 speed setup has shown itself to be far from finicky despite the countless miles that we've put on it, much of them in nasty conditions. Given the group's success under both racers and weekend warriors, it didn't take a psychic to predict that SRAM would look to utilize the technology found in XX1 to create lower priced component group, and that much was made official yesterday with SRAM's X01 press release making the rounds on pretty much every mountain bike website out there. Although the specs for the long awaited 11 speed X01 group have finally been made public, there were still some unanswered questions that needed to be addressed.
SRAM's X01 group left some people scratching their heads due to its cost and weight that compare closely to XX1, but the real story is that it will save the consumer money at the OEM level when they buy a complete bike

How much money do you save by going with X01 instead of XX1?
Somewhat surprisingly, not as much as you might think. Depending on what type of bottom bracket your bike requires, whether you choose trigger or Gripshift, as well as the chainring size you go with, XX1 carries an MSRP of between $1,449 - $1,573 USD, which is only a few hundred more than the $1,273 starting price for the just released X01 group. While you can hear the collective groans of those riders who were hoping for a much less expensive 11 speed group, if you listen carefully, the fact of the matter is that the costly manufacturing methods required by XX1 are also used to create X01, meaning that the new group's retail price is more or less where we expected it to be. Take the cassette, for example, which is essentially the same 11 speed X-Dome unit utilized by XX1, with all but its largest 42 tooth cog machined from a single steel ingot. The result is a $399 USD cassette that is just $25 less expensive and 15 grams heavier than the XX1 version, distinctions that are essentially down to the different finishing processes used. That means that we don't expect a much cheaper 11 speed group from SRAM until a less expensive method of cassette manufacturing is employed, although SRAM does plan to offer aluminum arms as an aftermarket option at some point in the future, a move that should bring the group's MSRP down considerably. Regardless, a pinned 11 speed cassette is key to lowering the group's cost to X9 price levels.

Does it feature the same gearing range?
As of right now X01 does not offer quite as easy of a low gear as XX1, with the issue coming down to the 94mm bolt circle diameter (
BCD
) that the X01 crank spider utilizes. That means that the smallest ring that can be fitted is a 30 tooth, unlike the 76mm BCD spider on the XX1 crank that allows a smaller 28 tooth ring to be used.

Those carbon fiber cranks sure look like the arms used by XX1...
That's because they are the same. The exact same, actually, which is surely another factor that contributes to the group's near-XX1 asking price. While the arms themselves are identical, there are machining differences in the spider and rings, as well as in the crank's finish, which set it apart. A ceramic bottom bracket also comes stock with XX1, while X01 gets a stainless steel unit, and a narrower Q-factor is possible with the XX1 arms as well. As mentioned above, expect an aluminum X01 crankset option in the future, with it being initially offered only as original equipment on complete bikes.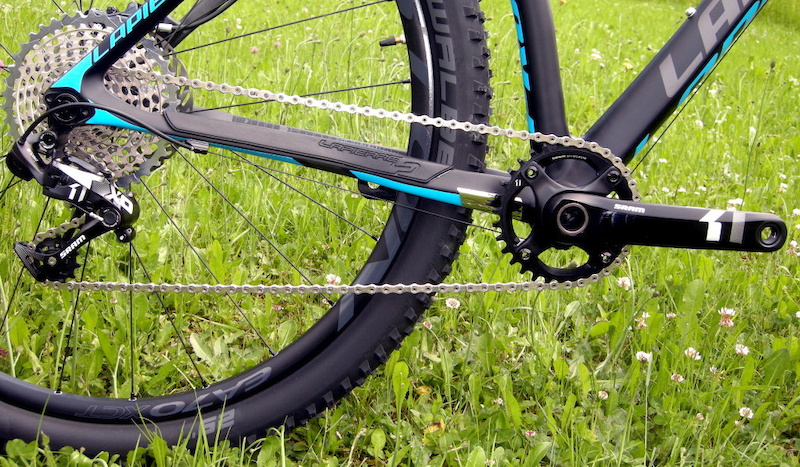 An aluminum X01 crank will come as stock equipment on some bikes, with it being ready for the aftermarket down the road.

Do the cranks still use that funky sized 76mm BCD spider?
No, the X01 crank uses a 94mm BCD and corresponding chainrings. While SRAM's offset 76mm BCD design used on the XX1 spider does allow riders to easily swap out chainrings without removing the cranks from their bike, it also locks them into using SRAM's relatively expensive rings, a fact that consumers weren't fond of despite how effective the narrow/wide X-Sync design is at keeping the chain in place. SRAM will offer both 94mm BCD rings and their own 104mm BCD rings that will cost between $105 and $127 USD depending on the size.

How much heavier is X01 compared to XX1?
From what we can tell by using claimed weight figures, the answer is not much. The largest weight difference when comparing the groups side by side is found in the cassettes, with the XX1 version weighing a claimed 260 grams compared to the X01 unit at 275 grams. This is actually down to the different finish treatment used on the X01 unit, although most riders will scoff at the 15 gram difference. If you think that is a small margin, there is just 5 grams separating the claimed weights of the XX1 and X01 cranks: 650 grams with a bottom bracket for the XX1 compared to 655 grams for X01. With the same carbon arms, the difference can be traced to the spiders. Just 10 grams separates the derailleurs, and it is essentially a wash between XX1 and X01 trigger shifters. That means, depending on whose numbers you are looking at, there is only a 30 - 40 gram difference between the two groups.

Are the two groups compatible with each other?
With the exception of the differing crank spider BCD patterns, they are cross-compatible. That means that the shifters, cassettes, chain, and the XD driver body from each groupset can be used with components from the other, and that we surely see complete bikes spec'd with an XX1 derailleur and carbon crank, but with a less expensive X01 cassette and shifter.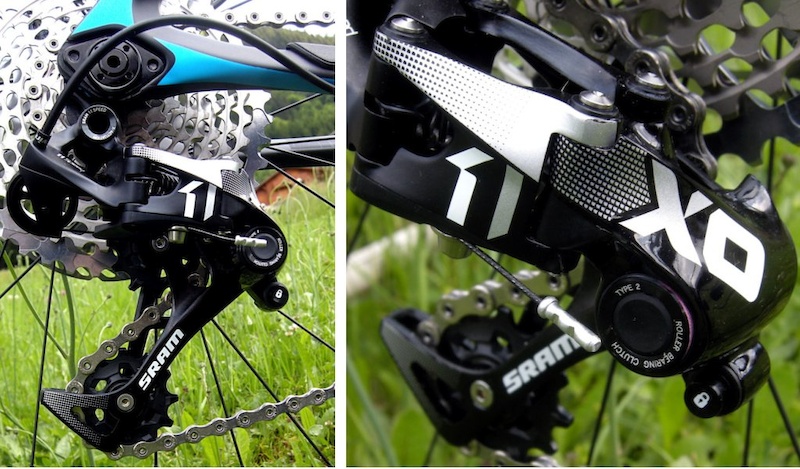 The X01 rear derailleur will be offered in both carbon and aluminum (shown above) cage options, with the carbon version retailing for $269 USD.

XX1 and X01 seem to be priced similarly and weigh close to the same...
Going with SRAM's recommended prices, which are likely higher than the street price that most people would pay if they walked into their local shop, as well as comparing claimed weight figures for the two groups, we discover that there really isn't too much separating the two single-ring drivetrains. In fact, there is only $176 USD between the two at the retail level, and just 30 - 40 grams (
when both groups use carbon cranks
) when it comes to weight. Why are the two groups so close? The answer comes down to costs at the OEM level, with the relatively small price difference between the two actually converting to a truly reasonable amount of savings on the retail price of complete bikes. How much savings isn't clear, and that is also something that will obviously vary from brand to brand, but it does mean that an X01-equipped bike could be substantially less expensive than the same model spec'd with XX1. While it may seem odd that the two groups are so close in weight and aftermarket price, spec'ing X01 at the OEM end will allow SRAM to deliver their excellent single-ring drivetrain technology to riders who would otherwise not be able to afford a bike with a full XX1 group.
Pinkbike's Take:
| | |
| --- | --- |
| | While there were quite a few comments related to the group's price and weight relative to XX1 in yesterday's initial press release, X01's real advantage will be its ability to deliver SRAM's single-ring technology on complete bikes that retail for appreciably less money than what the same machine spec'd with XX1 would cost. That's a good thing in our books because that savings, which might conceivably add up to hundreds of dollars for the consumer, could translate to upgrades like dropper seat posts on lower priced bikes, or just straight up more money left in your wallet. - Mike Levy |
www.sram.com