How many vertical feet

do you think you put in on your downhill bike in a year? Twenty thousand? Two hundred thousand? Maybe a million if you shuttle a lot? Whistler local Adam Billinghurst took the term ''park rat'' to new heights this summer when he managed to throw down one million feet of descending in just fifty seven days aboard his Trek Session 9.9. Let us break that down for you: If he was doing the same vertical every day - which wasn't possible due to the upper Garbonzo zone opening later in the summer - he would have had to descend 17,543 feet every single day for fifty seven days. So if your mountain offered 3,000 feet of elevation drop, you would end up having to do nearly six runs every day for fifty seven straight days. There's a good chance that your local hill down the road isn't Whistler, though, and anyone who has spent time in the WBP knows just how rough and beat the trails can be, even early in the season. Billinghurst's one million foot goal, which he reached while on his favourite section of No Joke, took an equal mix of measured riding and macho bravado to accomplish without any major injuries and in the time frame he aimed to do it in. The other part of the equation is equipment, with any major failures adding up to lost saddle time in a best case scenario, or injuries at worst. And speaking of equipment, his lofty goal also proved to be an ideal opportunity for RockShox to put their new prototype BoXXer internals to the test, with the amount of riding that Billinghurst planned to do also acting as a form of extremely accelerated testing.

| | |
| --- | --- |
| | As the park opens up higher and higher it gets easier to post bigger numbers, and if you could ride from the peak from day one it would take less time. For the first month, you can only get just over 1,100 feet per lap, however, the more you ride the better the chance you have of getting hurt. I feel like it's a game of survival. |

Billinghurst's Session 9.9:

• Production Session 9.9 frame

• Rear wheel travel: 210mm

• Frame material: carbon front triangle,   aluminum chain stays

• Fork: RockShox BoXXer with   prototype internals

• Shock: Production RockShox Vivid   R2C

• SRAM 10 speed drivetrain

• Truvativ X0 DH carbon cranks

• Avid Code brakes

• Bontrager wheels

• Bontrager G2, G4, and G5 tires w/   tubes

Parts replaced:

• Seven tubes

• Eight sets of tires (

one set per week

)

• Four sets of sintered Avid Code brake   pads

• Three sets of grips

• Two SRAM X0 rear derailleurs

• One Truvativ X0 crank arm

• One Bontrager rear rim

• One Bontrager freehub body
Suspension:
The accelerated long term testing laid down by Billinghurst over those fifty seven days takes on special meaning when talking about the suspension bolted to the front of his bike, which was a very non-production BoXXer fork that has been fitted with a special prototype damper. RockShox wouldn't admit to anything when questioned about what exactly is going on inside Adam's fork, but it doesn't take a genius to figure out that it is likely a long-stroke version of the Charger damper that is used in the new Pike, especially given that we've seen precisely that employed by both racers who are under the BlackBox umbrella and a few lucky freeriders at the Red Bull Rampage. It's certainly well within reason to assume that RockShox saw an opportunity to put the new damper, which is expected to reach production for 2015, to the test by having Adam put one million feet on it in just fifty seven days in the Whistler Bike Park, a theory that is backed up by inspecting the fork's single compression and rebound dials that appear to be identical to those at each end of the Pike.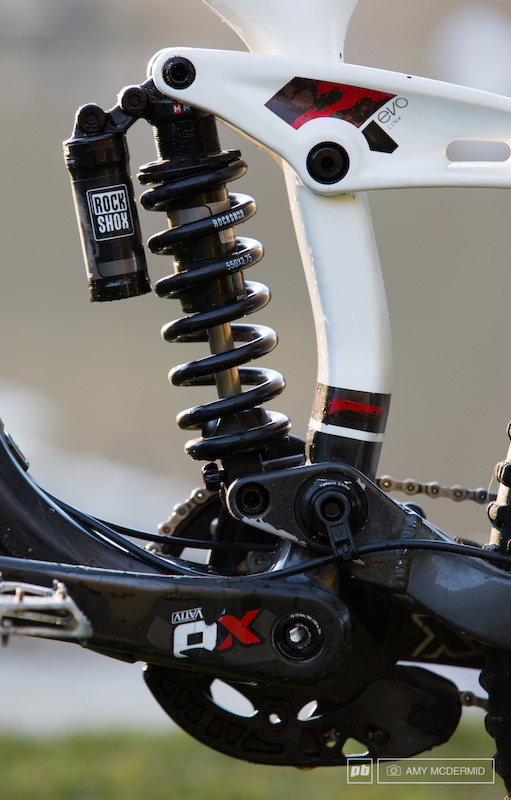 The opposite leg of the fork held a coil spring for the large majority of the fifty seven days, with Billinghurst preferring the small bump sensitivity that it affords over an air spring, especially when taking into account hand fatigue during long days in the bike park. Preventative maintenance is key for a project like this, but he still put in two hundred and fifty runs before having the fork or shock looked at, and Billinghurst told us that even then it was more to take a look at how the fork's prototype damper was faring than to perform any serious repair work.
| | |
| --- | --- |
| | I play with my suspension quite a bit, and only having a single compression dial at the top of the prototype BoXXer makes that easy. My hands hurt quite a bit while I was doing this, so I'd often turn my compression all the way off for the first couple laps of the day to make it as soft as possible until my hands warmed up. |
The RockShox Vivid R2C on the back of Billinghurst's Session began life with a completely stock "medium-medium" rebound and compression tune, but it wasn't long before it was fitted with custom valving to suit his unique needs. This was done by Shawn Cruickshanks, a SRAM tech who runs Fluid Function, a local suspension service center, who explained that Billinghurst ''
liked the small bump sensitivity but wanted a little more support when he hit things hard,
'' which required a bit stiffer of a tune. ''
Adam charges and could ordinarily run a heavier tune, but because he was doing this marathon, I didn't want to over-tune and cause any unnecessary fatigue,
'' he went on to say. There was also the need to keep Billinghurst rolling day in and day out regardless of any maintenance that needed to be performed, which is why he had two Vivid R2C shocks done up with matching tunes, thereby allowing him to swap the shock out without any down time that would have prolonged his effort.
Drivetrain:
What does one million feet of descending do to a drivetrain? While Billinghurst obviously spent more time coasting on his downhill bike than a rider putting in less vertical but earning their turns would have, that much downhilling in the Whistler Bike Park puts its own unique demands on components. Derailleurs are especially vulnerable in such settings, with stumps and rocks seemingly able to reach out to tag them regardless of how much room you think you might have. The latter was responsible for taking out one short cage X0 unit on the back of Adam's bike, while a second was retired when a hard bottoming moment extended the derailleur's cage past the point of no return, although blame for this could likely be put down to a chain that was short a few links. Fifty seven days of early season riding also required a few gear cable changes to keep the bike's shifting on point, but anyone who has spent a good amount of time in B.C. knows all about that sort of thing.
Did you spot the mis-matched Truvativ X0 crank arms on Billinghurst's bike? ''
One of my pedals came loose in the crank without me realizing it, and then I over jumped a gap and landed to flat really hard,
'' he explained. Those two factors conspired to pull the threads out of the crank's aluminum insert, which obviously meant that the arm had to be replaced. His bike was equipped with a 36 tooth 'ring from start to finish, and he told us that he had no derailments or issues with the Truvativ X0 chain guide.
Wheels and Tires:
Being the rear wheel on a downhill bike wouldn't be a good life, but that gets multiplied ten-fold when you're the rear wheel on Billinghurst's one million foot project bike. Not surprisingly, he needed to replace the rear rim once, along with a having both ends trued a few times during the effort, but that much is to be expected given the amount of descending that he squeezed into such a short time span. A more unexpected failure occurred when his freehub gave out partway through the undertaking, requiring a swap for Billinghurst to continue on.
| | |
| --- | --- |
| | When I test new product I always like to go back and ride the old product after a few weeks to give me more perspective on the differences and improvements. |
You might be surprised to hear that he set up his bike with tubes rather than a possibly more reliable tubeless system, but going that route begins to make more sense when you learn that he changed out to new rubber at the beginning of every week. That adds up to eight sets of tires in total, and running tubes meant that swapping out tires wasn't as time consuming and messy as it could have been if he had gone with sealant. What about flat tires? Adam only suffered seven flats in total, an astonishingly low figure that converts to just a single flat every 142,857 feet of descending, although he does admit that he runs more air pressure than many riders his size - 32 PSI out back and 31 PSI up front, with cross-country and mid-weight tubes. Installing new tires every week likely also played a role in keeping him up and running, with his bike using a mix of Bontrager's G4 and new G5 tires, as well as the insanely fast rolling G2 option for the chainless A-Line race.
Brakes and Cockpit:
Billinghurst used the same set of Avid's four piston Code brakes throughout the endeavor, although new fluid was run through them a few times between day one and day fifty seven to keep their power and consistency at peak levels, an important part of the bike's maintenance considering the high speeds and big moves that Adam is known for. Brake pads should certainly be considered a consumable for the average rider, and with Billinghurst riding faster and more often than the weekend warrior or even the dedicated park rat it's not surprise to learn that he burned through four sets of sintered brake pads - we would have likely guessed a higher number - and one rear rotor that was damaged on a rock early on. He reported no issues with hoses or broken levers despite a number of good sized crashes.
The bike's cockpit is all about long term reliability over saving weight, with no carbon fiber to be found up front. A Truvativ Boobar that has had 10mm removed from each side to measure in at 760mm is held in place with a 50mm Holzfeller direct mount stem, and a lack of spacers makes up for having his BoXXer's stanchions at near full extension in the fork's crowns. A trustworthy GPS unit was an absolute must for the effort, something that could be a bit of a challenge when you consider the abuse that his bike was put through over those fifty seven days, so Billinghurst ended up running a Garmin Edge 500 as his main computer and a Suunto Ambit as a backup.
| | |
| --- | --- |
| | I broke the million foot mark on the best section of No Joke, just below the Creekside gondola and above the containers, but I rode in fear that entire last day while just trying to stay rubber side down. We celebrated with some beers at the GLC after, and then I took a week off the bike after I was done. |
www.trekbikes.com
www.sram.com
www.anthillfilms.com
Sony's Action Cam YouTube channel