TESTED
Specialized
Status II

WORDS
Mike Levy
PHOTOS
Fraser Britton
Getting yourself onto a proper downhill bike is an expensive proposal, with many top tier models going for well over $5,000 USD, and let's not forget about the dream machines that can easily double that. Specialized's Status II, at $3,100 USD, is a far more realistic option for many riders who want a bike that can be ridden hard and fast, be it on a race course or just with your buddies, but aren't willing to sell a kidney to do it. The 200mm travel bike comes ready to roll with a dual crown Domain fork from RockShox, a FOX Van RC rear shock out back, and both a chain guide and proper, dual ply DH tires.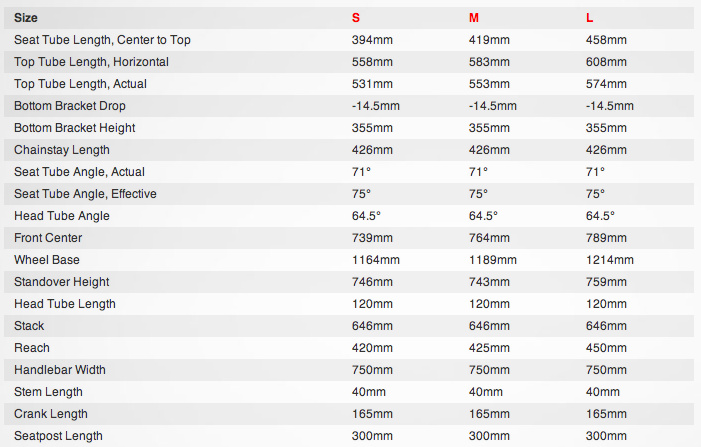 • Intended use: downhill
• Rear wheel travel: 7.8''/200mm
• RockShox Domain fork, 200mm
• FOX Van RC rear shock
• 1.5'' head tube
• 10 x 135mm rear axle
• FSR rear suspension
• ISCG chain guide tabs
• Specialized Butcher DH 26 x 2.3"
• MSRP $3,100 USD
The Status is available at two price points - the $3,100 II shown here, or the $2,500 I model - both of which are assembled around the same aluminum frame. While the Status lineup retails for a good chunk less than the race-inspired Demo 8 series, you'd be mistaken for thinking that the platform is low budget - it's far from it. From the flush
aluminum pivot hardware to the very well laid out cable routing, the Status frame looks every bit the part of a high-end DH machine. The details are all there as well, including a full length 1.5" head tube, thereby allowing an angle-adjusting headset to be fitted if the Status owner is looking for more extreme geometry than the stock numbers. The non-tapered head tube also makes for a wide, strong junction for the top and down tubes to come together at. There is plenty of stand over clearance thanks to a top tube that drops down well out of the way as well. Interestingly, Specialized decided to forgo the 150mm rear wheel spacing that is commonly found on the back of most downhill bikes, with 135mm width, open dropouts utilized instead. Why buck the trend, especially in a sport where riders often get caught up in the numbers? The decision lets Status owners fit a standard rear wheel that often retails for quite a bit less than what a 150mm wide, dedicated DH wheel would go for. The choice makes sense to us, but how will the bike's lateral stiffness compare to the competition?
The FOX shock rotates on two sealed bearings at its rearward mounting point.
Status Suspension
Specialized's two downhill platforms, the Status shown here and the Demo series, use suspension layouts that appear to be very different. There is some truth to that, in that the positioning of the components differ, but they both feature the same FSR genes.
The bike's Horst Link, FSR design is all about keeping the suspension active, regardless of the rider being on the brakes or on the gas. This is accomplished by the rear pivot's location ahead of the dropout, a design that means that the brake caliper is positioned on the seat stay assembly that floats on the chain stays and rocker link rather than pivoting directly off of the front triangle. This allows the braking forces to be decoupled from the suspension's action, thereby letting the bike absorb impacts regardless of if the rider is dragging the rear brake. The FSR design looks very much like many other single pivot, linkage driven bikes, but the key difference boils down to the rear pivot's location ahead of the dropout, compared to the former's location that is usually above the dropout.
By altering a bike's pivot locations, Specialized can tune the amount of rearward axle path they desire, as well as the suspension rate and pedalling characteristics, with certain FSR-equipped models in their lineup requiring more focus on one facet over others depending on the bike's intensions. The Status, for example, puts a high priority on being able to absorb hard, abrupt impacts, while Specialized's XC-focused bikes put more of an emphasis on offering a firm pedalling feel. The bike also does without any suspension rate or geometry adjustments, leaving both of those particulars up to the engineers behind the Status' design.
Specifications
Release Date
2012
Price
$3100
Travel
200mm
Rear Shock
FOX Van RC
Fork
RockShox Domain Dual Crown R, 200mm
Headset
Semi-integrated
Cassette
SRAM PG-950, 9-speed, 11-28t
Crankarms
FSA Gravity Moto-X MegaExo, 165mm
Bottom Bracket
FSA MegaExo
Pedals
Alloy platform
Chain
SRAM 9-speed
Rear Derailleur
SRAM X7, 9-speed, short cage
Shifter Pods
SRAM X5, 9-speed, trigger
Handlebar
Specialized Demo low-rise bar, 750mm
Stem
Specialized Direct-Mount stem, 40mm length
Grips
Specialized lock-on, S/M: Grappler, Others: Grappler XL
Brakes
Avid Elixir 5 hydraulic, 200mm front, 180mm rotors
Hubs
Specialized Hi Lo disc, 20mm front, 135mm rear
Spokes
Stainless
Rim
P-Disc, 32mm, 36h
Tires
Specialized Butcher DH, DH casing, wire bead, soft dual-compound, 26x2.3"
Seat
Specialized DH, 8mm steel rails
Seatpost
Two bolt micro adjust, 30.9mm
---
Riding the Status II
The popular Demo 8 proves that Specialized knows how to design a downhill bike with racing in mind, a fact that gives them a bit of leeway when it comes to the Status in that it doesn't have to follow the relatively extreme geometry set of a contemporary downhill race bike. This much is obvious when sitting on the red and white Status II; it feels a touch more upright than its more expensive sibling, as well as slightly higher off of the ground. Don't get the wrong picture, though, because the Status is far from feeling 'freeride-ish', but there is certainly more of an all-around character to it when compared to the Demo.
Handling

We wish we could narrow down the combined ingredients that create a bike that feels at home right off the bat, because it is always a great thing to jump on an unfamiliar steed and be at ease straight away. This was the case with our medium-sized Status II test bike - it just felt 'right' from the get-go, minus the too-skinny 750mm wide stock handlebar, of course. Tip it into a corner and it does what you ask of it without fuss. While some 200mm travel sleds can feel a bit awkward without a good amount of momentum behind them, the Status still responds well at a slower pace and doesn't require the body english to get around those tight, slow bends. Braking hard into a corner would force the bike's Domain fork deep into its travel, making the handling a touch twitchy when pushing hard, but this can be minimized by tinkering with the fork's spring rate and oil weight, something that heavier Status riders would do well to look into.

And what of the Status' standard, 10 x 135mm rear axle? In all truth, it passed unnoticed during our time on the bike. It felt every bit as rigid as a 150mm wide thru-axle setup, and we wouldn't be able to make the call in a blind test. Specialized did spec the bike with a 10mm bolt-on axle, though, likely upping the rear end's ability to brush off side loads. The 10 x 135mm spacing also means that Status owners aren't restricted to expensive 150mm width hubs, but can fit a more price-conscious rear wheel if the need arrises. While maybe not the Usain Bolt of downhill bikes, the Status motors along nicely when throwing down pedal strokes between corners, and the FOX shock's compression adjustment certainly adds to the bike's 'sprint-ability' if required.

Status vs. Demo

We've spent a bit of time on the more race-focused Demo 8, so how do the two compare? The Demo 8 is a great DH bike, one of our favorites, in fact, but we also acknowledge that it isn't going to be for everyone. Much like a powerful street bike, the low-slung Demo can bite a rider who hasn't yet come to terms with the bike's low bottom bracket and short rear end. Use those two attributes to your advantage and the Demo 8 becomes one of the most formidable cornering machines ever made, but forget and you are asking to get spanked as a reminder. The Status, on the other hand, is a more forgiving steed that can still be ridden extremely fast, and, as a bonus, you're less likely to catch a pedal thanks to the bike's slightly higher ground clearance. As a matter of fact, tight, rocky trails are actually easier to ride fast aboard the Status than the Demo, again proving that a bike's geometry is by far its most important aspect.
Unlike many other downhill bikes, the Status doesn't cater to a specific type of rider or terrain, but is more of a jack of all trades. That means that it doesn't gobble rough ground as well as some, or smash corners as well as others, but it has an easy-to-ride personality that lacks the sometimes polarizing traits of some other designs, and we mean that in a positive way. To put it simply, the Status it is a neutral-handling bike that is plain easy to ride.
Suspension
The Status' rear suspension may look very different to what is employed on the Demo, but its layout features the same FSR DNA and, not coincidentally, performs similarly. This is a good thing, though, with the rear end of the bike remaining active regardless of what we were doing. This was highlighted when coming into fast and rough corners, with the bike doing well to remain settled and planted in such circumstances, keeping the chattering to a minimum and the traction high. The active and neutral rear end could also be felt on the steeps, where the the rider's weight being pitched forward can often result in the back of the bike locking up and skipping over steps and holes on the trail - not something that we can complain about during our time on the Status. The active and forgiving ride also didn't seem to detract from the bike's ability to be jumped, pumped, and generally thrown about when required, allowing us to not only ride fast, but also have fun. In fact, the Status' rear end felt somewhat invisible after swapping between other DH sleds, with us never wishing for more or less of anything from the bike. The FSR rear end simply goes about dealing with the terrain in a quiet way that left us very satisfied, if a bit bewildered that we couldn't find something to complain about.
The FOX Van RC offers rebound and compression tuning options, but lacks the volume and air pressure adjustments of FOX's pricier rear shock. This means that we couldn't use those features to tune the rear of the Status to either ramp up or be more linear through its travel, but we also never really felt the need to make any such adjustments. Sure, a heavier, pro-level rider might want to squeeze even more performance from the bike's rear end with a higher-end shock, be it a DHX RC4 from FOX or a Cane Creek Double Barrel, but that would also jack the price of the Status up a considerable amount and defeat the purpose of this affordable trail-crusher.
If anything, the quality of the Status' back end exposed the RockShox Domain's shortcomings when pushed past anything above a moderately quick pace. Yes, the steel-stanchioned fork is quite smooth and active, but its damping could be overwhelmed by fast, successive impacts, giving the front of the bike a somewhat unpredictable feel when we least wanted it. It was almost as if the fork forgot its job for a split second, highlighting the internal differences between it and its pricier BoXXer cousins.
Other Ride Notes
• The minimalist chain guide may not be as popular with riders as some other brands, but we didn't suffer a single derailment during the test. Having said that, we would like to see some bash guard-type protection incorporated into the guide - we didn't damage the chain ring or chain, but it only takes one good hit to cause some ride-ending damage.
• Specialized's Butcher DH tires are great all-around performers, and we were also happy to see that they use a burly DH casing that kept us from flatting during our time on the bike.
• The stock, Specialized riser bar, at 750mm, is a bit too skinny for our liking. Bar width is always going to be personal preference, but we would install something wider if the Status II was in our stable.
• The bike's cable routing is bang-on; the lines stay out of trouble and are nearly invisible when viewed from a few meters away.
• Heavy or aggressive riders will want to step up to a 200mm rotor out back instead of the stock 180mm that comes fitted.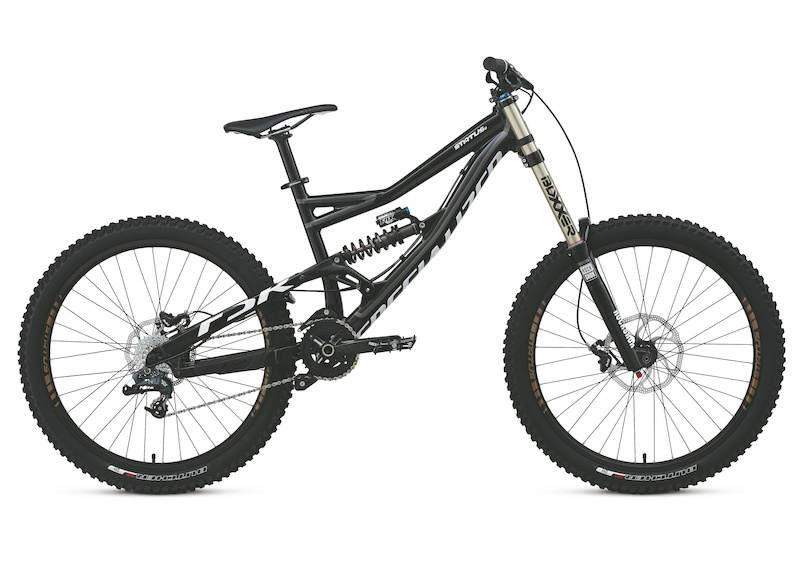 2013 Status II
The Status II goes stealth for 2013, but there is one standout component spec change that should make prospective buyers happy: the rebound-only Domain R used in 2012 is replaced with a more adjustable BoXXer RC. The fork's low-speed compression dial means that it is a step up from the Domain, allowing the Status II pilot to tune out the brake dive that we complained about on the '12 model, and it is well over a pound lighter thanks to its aluminum stanchion tubes (
steel uppers are used on the Domain
). Other changes include Truvativ Descendent cranks, and Specialized's own Bennie pedals as stock equipment.