Santa Cruz
threw a party at its headquarters to celebrate Josh Bryceland's World Cup Series Overall victory and Silver Medal at the World Championships. Rat Boy was on crutches and in good spirits, looking to heal up quickly. About two hundred revelers showed up for the invitation-only bash, including a cadre of yet-to-be-announced additions to the Syndicate Team. Festivities included hydraulic shark rides, 80's karaoke and enough alcohol to power the generators at the UCSC dormitories for a week. The surprise of the party was the announcement that the 27.5-inch wheel V10.6 was in production for model year 2015, and that the first shipment was already arriving at select dealers worldwide. Two models will be available: a SRAM X01 version that will retail for $8799 and a more affordable Shimano Zee based V10 with an MSRP of $5699.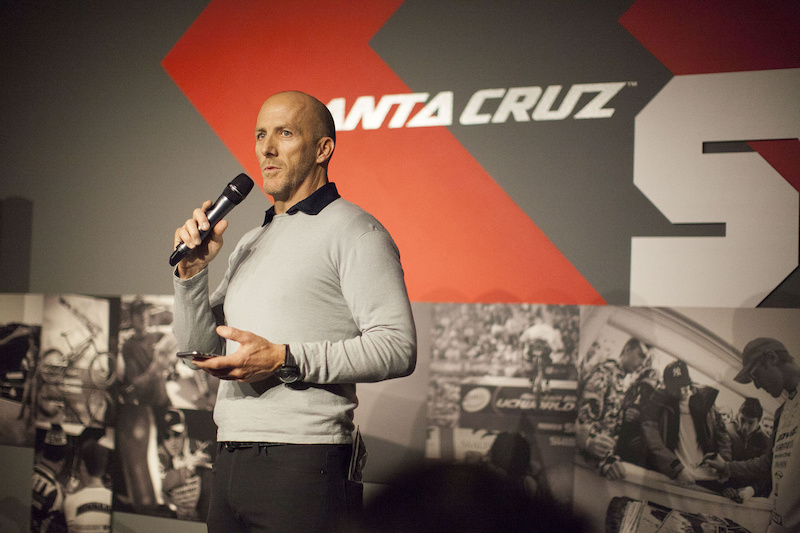 Santa Cruz founder and supreme ruler Rob Roskopp.
---
Features
• Full carbon frame and swingarm
• 216mm (8.5") VPP suspension
• 27.5" wheels
• Adjustable geometry with High and Low settings
• Double sealed pivots for long bearing life
• Dual grease ports on lower link for easy maintenance
• Integrated fork bumpers with cable guide
• Molded clip-on chainstay and upright protector
• Angular contact bearings maximize stiffness
• Collet axle pivots lock in place without pinch bolts
• 157mm rear axle spacing
• Threaded BB for creak-free riding and easy installation
• ISCG-05 tabs for chainguide compatibility
• Sizes: S, M, L, XL
• MSRP: Two builds - $5699 to $8799
---
Basically, the new bike is an improved version of the machine that the team campaigned on this season - which reportedly, is a complete redesign. That said, the 2015 V10 follows the same lines as the 26-inch design, but with a shorter shock (8.75" compared to 9.5") and slightly reduced rear-wheel travel to compensate for the larger, 27.5-inch wheels. The front section is strengthened and features larger-diameter tubes, with a longer front-center to produce a roomier cockpit. The swingarm has been redesigned with stiffer, larger chainstays. The chainstay length is the same as the 26-inch, with the exception of the new XL size, which uses the exact same swingarm, but with longer VPP linkage arms in order to add another ten millimeters. Adjustable geometry can alter the steering angle by a half degree (64 or 63.5 degrees) and the bottom bracket height by one fourth inch (7mm). The VPP rear suspension has also been reconfigured to produce a less progressive leverage rate.
The All New V10 from Santa Cruz Bicycles on Vimeo.
To mark the debut of the latest V10, Santa Cruz assembled a timeline of its 12-year history as the sport's most successful gravity racing bike, from its earliest beginnings as the Super 8, ridden to victory at the 1999 European championships, to the carbon V10-6 that Rat Boy rode to the WC overall in 2014. Syndicate mechanic Doug Hatfield, the man who personally assembled and maintained nearly every one of the machines on display, walked me through them one by one. It was an emotional moment. What struck me most was that, with the exception of Steve Peat's number four plate at the Canberra World Cup (he won that race), every race bike on display wore a top three number plate.
---
The beginning: Bruno Zanchi's Super 8 - 1999 European Champion.
2015 V10 Specs: