CARBON
OPERATOR

WORDS
Mike Levy
PHOTOS
Colin Meagher and Joe Sales
GRAHAM AGASSIZ ON THE CARBON OPERATOR
Filmed and edited by Sherpas Cinema
KONA'S CARBON OPERATOR EXPLAINED
Filmed and edited by MIndspark Cinema with action shots by Sherpas Cinema
A Carbon Future

While some might still argue that the world of downhill isn't the place for carbon fiber, the success of the current carbon frames on the race track speaks volumes about just how strong a properly constructed ''plastic'' frame actually is. In fact, having been behind the scenes of multiple frame manufacturing and testing facilities has given us firsthand knowledge of the material's advantages. Consider that these carbon creations can also be made lighter, often significantly so, and any brand wanting to compete in the long-travel carbon bike realm will have to lay out the development costs for one of their own. Kona's Gravity Product Manager, Chris Mandell, realized that more than a year ago when the Carbon Operator project first kicked off.

''We can make a stronger, lighter bike.''

We asked why carbon and why now?

''It involves a lot more cost on our end in terms of the engineering time and preparation, but it pays off for the consumer at the end of the day with a bike that is going to enable them, because it's lighter, because it's stronger, because it's stiffer. It's that simple.

'' What isn't simple, though, is actually designing, testing, and manufacturing a carbon frame intended to be used for anything between a World Cup downhill use by team rider Connor Fearon and a burly Red Bull Rampage run by Kona's Graham Agassiz.


• New model for 2013
• Unidirectional carbon front triangle
• Hybrid aluminum/carbon rocker arm
• Revised four-bar suspension layout
• Tapered head tube w/o aluminum sleeve
• ISCG-05 chain guide tabs
• Large cartridge bearings at all pivots
• Aluminum chain and seat stays
• 12 x 157mm rear axle spacing
• Rear wheel travel: 200mm
• Frame weight: 7.29lb (7.93lb for the 2013 Operator frame)
• MSRP: under $4,100 USD, under $7,000 USD, frame only TBA
Evolution, Not Revolution
There are some suspension designs that have become synonymous with certain brands over the years - picture UK's Orange with their large swingarm, single pivot bikes, or how one automatically pictures a Horst Link bike when thinking of Specialized. The very same can be said of Kona, with them being well known for their walking beam, four-bar layout that has been employed in many different incarnations on everything from short-travel cross-country bikes to downhill race machines. Kona has remained true to this layout despite the suspension trends that have come and gone over the years, with them resisting the rise of the dual short-link layout that has gained massive popularity in recent times. Are there non-performance related reasons for them sticking to their guns? Maybe so, but it has to be said that Kona has done well to develop their four-bar system into a proven, formidable package. Don't forget that legendary Frenchman Fabien Barel took his highly modified Kona Stab to two World Championships wins and a World Cup overall title, not to mention the success of countless other brands who employ a similar four-bar design.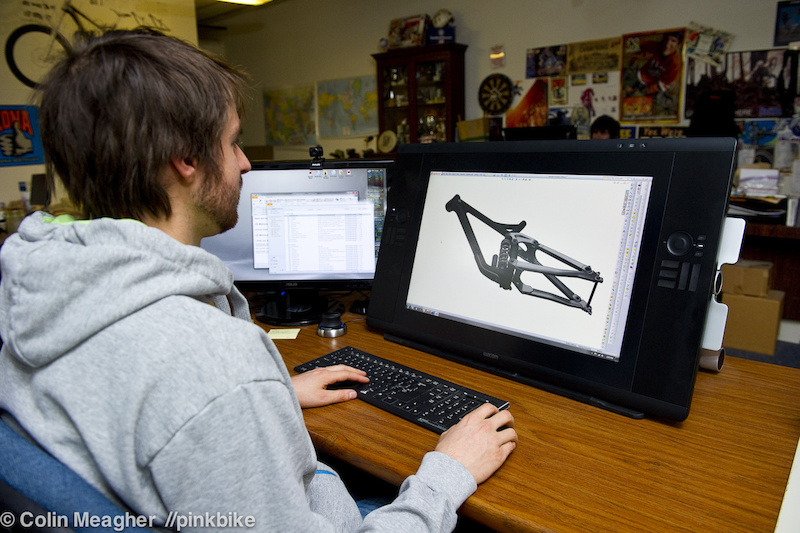 Those facts can be easily forgotten as other brands have debuted newer, flashier designs over the years, and it is probably fair to say that the Kona name doesn't get brought up when talking about exciting suspension happenings. But by sticking to their guns and refining a layout that they have been working with for years, Kona has proven that a company doesn't require a banal acronym or new design every few seasons to succeed.
| | |
| --- | --- |
| | Even though we started with that blank sheet of paper and looked at a lot of stuff, we found that this suspension design, which ends up being an evolution of our current Operator, was the best design out there for what we were trying to do. So that's what we went with. |
We would be surprised if Kona hadn't explored other options, though, especially for their new Carbon Operator platform, and industrial designer Jack Russell (
pictured at right
) admits as much.
''When we started this new project, the new Operator, we really started from a blank sheet of paper,''
Russell revealed to us.
''It's a little bit of an inside joke that we ended up with a walking beam suspension like we've always had. We really started this project looking at all suspension options; we spent a long time looking at a lot of kinematics.''
That wasn't what we were expecting to hear from a brand that has utilized the same suspension ideology for so long, with the frank and marketing-free admission that they assessed other routes that may have held promise before deciding to persevere with what they know so well.
That isn't to say that the 200mm travel Carbon Operator hasn't seen changes to how its suspension functions compared to the current Operator, with a side by side comparison of the two bikes making it pretty clear that Russell has penned some major changes to both the bike's pivot placements and rocker arm shape. The result, he says, is that the
''leverage rate curve on the bike ended up being an evolution of our current bikes,''
he explained to us.
''We really tried to keep it relatively flat so it doesn't go through different tunes of a shock.''
That point, Russell told us, is key to creating a well rounded suspension system that reacts predictably regardless of where it is in its travel.
Fighting Flex
Rigidity is a recurring theme when talking about the new Carbon Operator, with Kona looking to make the bike, and especially rear end of the bike, as laterally unyielding as possible. Just how stiff is it? Kona claims that their testing has shown the new Operator's rear end to require three times the force to flex it the same amount as last year's model. We'll gladly point out that lab testing and real world use are two very different things but, if true, it is an impressive feat that should be noticeable on the trail. Kona was able to make such massive gains with a few different developments - the bike's hybrid aluminum/carbon rocker arm being a big factor in the equation. The stout looking rocker arm consists of two aluminum plates that are joined via a carbon fiber bridge bonding the two sides together. Why not just go with a standard full aluminum job or a fancy all carbon unit?
''Cost, complexity, and the durability of it just wasn't that good,''
Russell says of the originally proposed carbon rocker.
''And instead of just doing it anyway because it would cool, we really wanted to do what was best for the bike.''
In the end Kona says that they found that the hybrid rocker arm proved to be the best of both worlds when all the factors were figured in.
Other elements contributing to the Operator's rigidity include the bike's massive pivot bearings, and especially the wide main pivot the is afforded by Kona going with a PressFit 104 bottom bracket shell, allowing them to space out the left and right bearings as far as possible. A small detail, but one that Russell told us has made a quantifiable improvement in stiffness, is the simple addition of a pinch bolt on both sides of the bike's rear axle clamp. This small-scale alteration offered big-time gains by preventing the axle from twisting at either side.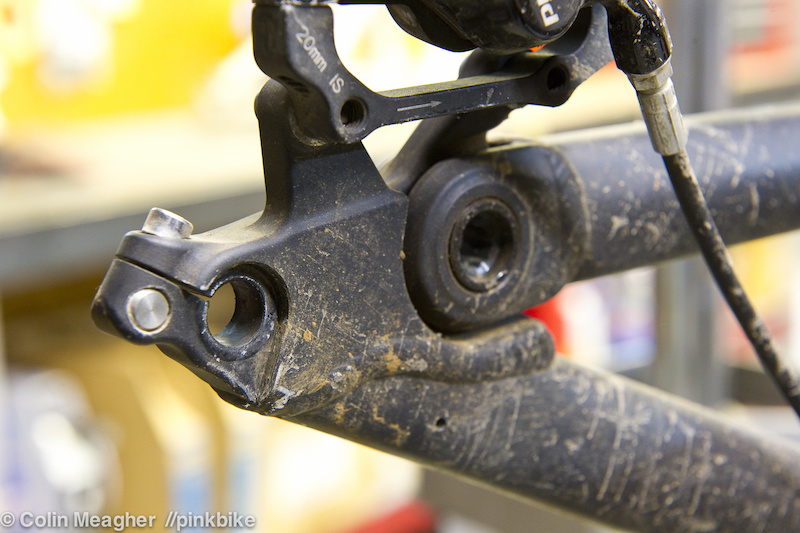 Frame Details
The brand new frame allowed Kona to incorporate a host of details that are becoming de rigueur on not just carbon frames but aluminum as well. This includes optional internal cable and hose routing that enter at the frame's integrated fork bumpers and exits via ports down near the lower shock mount, with the brake line continuing externally and the shift housing being routed through the chainstay. The fork bumpers themselves are held each held in place with two M5 bolts, the very same size and length that Kona uses to attach both the derailleur hanger and the included, dual density down tube protector.
Those who cringe at the mention of changing standards might want to stop reading now. Two slightly less obvious features are the bike's PressFit 104 bottom bracket shell that, while using the same bearings employed in the more common BB92 setup, spaces them out at a wider stance to accomodate DH cranksets with 83mm spindles. Moving towards the back of the bike, Kona has gone ahead with 12 x 157mm rear axle spacing that
makes it much easier to locate the wheel in the dropouts and slide the axle through. Many hub manufacturers are offering axle endcap conversion kits, allowing their current 150mm models to switch over to the newer 157mm width, something that also influenced Kona's decision.
| | |
| --- | --- |
| | As expected, we have quietly been testing 27.5'' wheels for a while now on everything from hardtails to all-mountain bikes. Again, the focus of this bike was to find the perfect balance. We understand that maximizing one benefit may detract from others. We also have a specific way we wanted the bike to ride and feel. Fitting a larger wheel on the back of a bike with 200mm travel comes down to finding the best balance of chain stay length, seat tube geometry, and main pivot position. When designing this bike it became clear that the larger wheel size would take the ride in the wrong direction. We believe there is a place for 27.5'' wheels in DH, sure, but that place is not on the 2014 Kona Operator. - Jack Russell, Industrial Designer |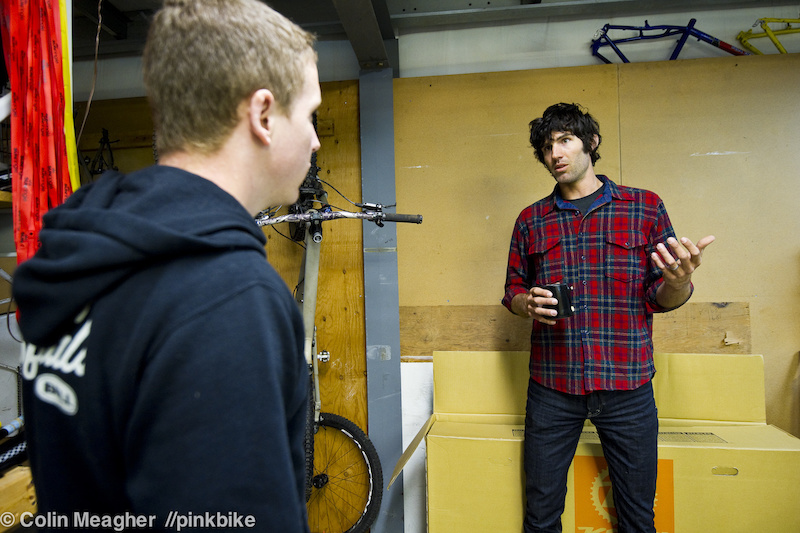 Looking for a Balance
Balance is a word that kept popping up as we talked to Mandell (pictured at left) about what they were looking for with the new Operator. He stresses that a bike really is the sum of its elements - an ultra-slack head angle or fashionably low bottom bracket doesn't mean that a design is going to stand out as a winner, he told us. Throughout the evolution of the 2014 Operator, including the numerous aluminum mules that were assembled in the name of testing, Kona strove to create a bike that could be enjoyed by all types of riders, not just the most skilled out there. Some recent designs on the market employ geometry numbers bordering on unrideable for many everyday riders.
''We're trying to find a balance of all of the different factors that come together to make a bike that rides well,
'' Mandell said of those unnamed bikes mentioned above.
''That balancing act, at the end of the day, creates a product that allows a rider to jump on the bike and feel comfortable instantly.''
That ethos led them to utilize a 64° head angle, a widely accepted figure, as it's a number that seems to work well in most settings. Out back, the rear end was shortened by 6mm compared to last year's Operator, making for a very compact 420mm chain stay length.
But what about weight, the talking point that so many riders seem to put such an emphasis on? While Mandell admitted that frame weight was certainly a factor in the design process, other characteristics came first on his wish list.
''I think we were primarily concerned with making a stiff, durable package. We could have used smaller bearings on this frame and that would have saved a lot of weight, but we stuck with quite oversize bearings for this frame. That makes them more resistant to side loads, and it makes them more resistant to pressure washers.''
he told us.
''Yes, there was a hierarchy of goals, and weight was in there - we're pretty proud of the weight at the end of the day - but durability, getting the right geometry, getting what we think is the perfect leverage rate curve... those were higher up in the hierarchy.''
So is the new bike a tank? Not so much, with the Carbon Operator pictured here coming in at a claimed 34.5lb with its steel-sprung FOX shock. The new frame is said to weigh in at 7.29lb, which is .64lb lighter than the current aluminum version.
Carbon for the Masses?
So is the Carbon Operator going to be an ultra-expensive dream rig that most of our dirtbag brethren will only ever to dream about? It goes without saying that the bike certainly won't be inexpensive, that much should be obvious, but Kona is also planning to offer a complete bike at what can only be described as an astoundingly low price for a carbon fiber downhill rig, less than $4,100 USD. For the record, Santa Cruz's V10 Carbon carries an MSRP of $3,499 USD for the frame alone with a FOX DHX shock. Yes, the V10 does sport a carbon swingarm and a very proven track record, but the fact that Kona can offer a complete Operator Carbon for just about $600 USD more than a V10 Carbon frame is impressive.
''For us at Kona, one of the things that we've really found a lot of success with is enabling the privateer,''
Mandell says of the bike's competitive pricing.
''The 2011 Operator, the base level bike, has been enjoyed around the world by a large number of privateers, and our goal with this bike is to continue that tradition. We want someone to be able to buy the base level version of this bike and race it for a full season without needing to replace all of the parts on the bike. That means appropriately wide handlebars, wheels that are going to hold up to a year's worth of downhill abuse, and a drivetrain that is going to do the same.''
At the other end of the spectrum there will be a sub $7,000 USD version that will come stock with a high-end kit and leave next to no room for upgrades.
| | |
| --- | --- |
| | We see less value in a bike that no one can afford, that you can only look at on the internet. For us, a lot of the bikes that we're most proud of are the bikes that don't have the crazy, sexy spec, but enable a lot more riders to ride. - Chris Mandell, Gravity Product Manager |
www.konaworld.com