My buddy's fat bike looks stupid. Ridiculous actually. Sure, it's all tricked out: titanium frame, carbon fork, dropper post, the works. And it is a bike after all. But those wheels. Those ridiculously obese, monster truck lookin', mud bog, butt-ass ugly wheels. An abomination of the "noblest invention" I say.
It's like my pal has gone all redneck on the cheap. In the same arrogant vein as those Joey's who drive around town with a 12-inch lift kit and massive treads, a motorbike or a snowmobile in the back, gun racks, loud motor, shitty music, all that "look at me I'm so big and awesome" crap that makes me fearful the apocalypse will drive right over us.
Of course, I realize that my friend's ride still is a human-powered machine. Not quite the Gravedigger. Which makes the whole fat wheel thing look even more asinine. The bike looks about as spry as Jabba the Hutt after an eating binge. I imagine a nightmarish, perpetual state of riding in bark mulch, with the brakes rubbing, never able to shift out of granny because it's such a pig. And when we think of efficiency, speed and grace—all things the bike stands for—to the uninitiated, the fat bike looks plain wrong. Even the name itself is an affront. Please agree with me here, the words "fat" and "bike" should never even be used in the same sentence, let alone right beside each other.
Most action sports have a long history of blasphemous one-offs and bizarre gimmickry. Bicycling is no exception. If you've ever been in the basement of Interbike, you'll know what I'm talking about. Weird recumbent styled contraptions where you lie on your stomach and pedal with your arms, booths with bolt-on-boob, fake tanned chicks jumping around on atrocious inventions that look like a bike, a thigh buster and a shake weight had drunk sex. Bikes that fold into a briefcase, bikes made out of cardboard…it never seems to stop.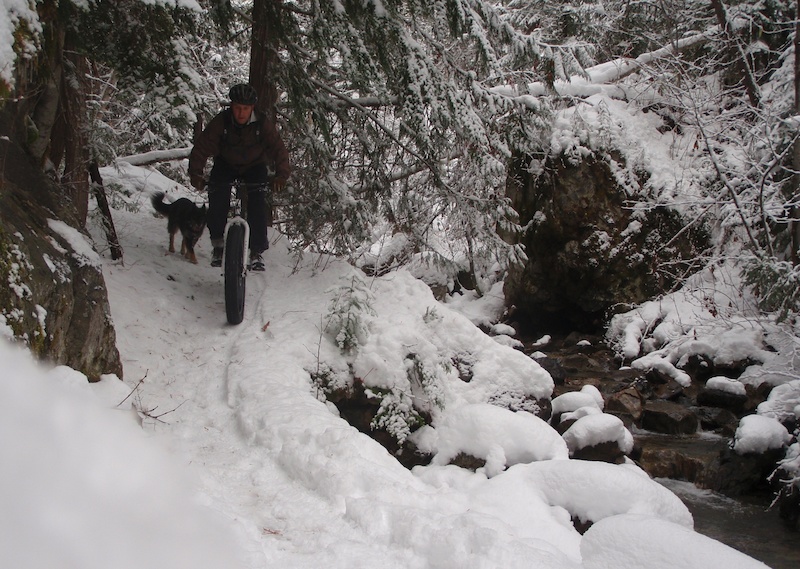 When it comes to riding on snow, inventors have been down this road before. A few years ago, an Austrian fellow wanted me to try some snow bikes he was importing from Europe. He showed me pictures of the contraption, and a
video
. He kept telling me how awesome it was. How the faceshots never stopped, how it was way more fun than actually skiing. Buddy had taken a downhill bike and replaced the wheels with some cut-off skis. If you were really pro, like Austrian guy, you wore little ski blades on your boots, "For ze extra carve." When he first phoned me, saying, "Ziss vill be a great story, the sport is about to take off!" I was skeptical to say the least. Guess what dude, there's already a sport that's got snow pretty dialed. It's called skiing, and it's only about 100 years old.
Not surprisingly, I never did try the ski bike. Nor do I see evidence of it "taking off."
So I come back to the fat bike. Fact is though, my buddy is having a grand old time, even though the residents of our mountain town stare at him with stunned confusion, interrupting his peaceful ride with thousands of questions. There's a little tribe of fatbikers (seriously?) in our town. After a snowfall they pack down the local trails with snowshoes, then ride. They say it's a blast, except for the icy bits. "Ice is still ice," they say. "Nothing works on that stuff."
And hey, I don't want to be the guy who knocks on creative exploration, but at a certain point, after you've seen many gimmicks—even sports—come and go, I'm left a bit of a cynic. For those of us who live in or near the mountains, there's no need to hybridize the two sports. When there's snow, go skiing (or snowboarding if you like dragging knuckles, cross-country if you like wearing tights). When there's no snow, ride the bike. The two sports are actually very similar when it comes to physical mechanics.
But now these snow bikes are taking off. A local distributor can't keep them in stock. And I'm torn. I love riding, but if I want to participate I need to buck up $3,000 for a bike that is only worth riding when it snows? Really? I'll tell you what, when it snows, I go hit the slopes. I've already got the gear, and that gear happens to be super dialed. Maybe if I lived in Alaska, or Minnesota, where it's cold and flat I'd get a fat bike. But why would I live someplace like that?
So I yield hesitantly. Even if I'm pretty sure I'll never participate in this particular niche, I'm fascinated to see where it goes. It's a little bit cool, I guess, even though the bike looks profoundly wrong. And the more I think about it, I bet it rides through bark mulch pretty damn well.
-
Mitchell Scott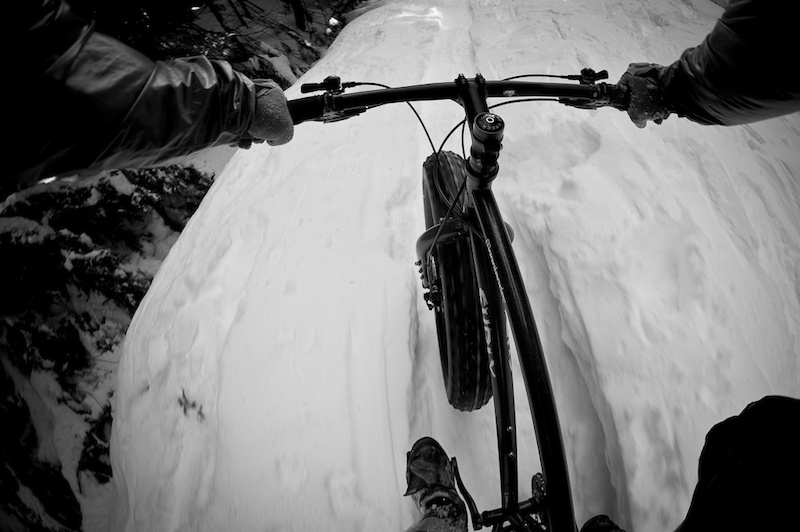 POV Image by Margus Riga
---
If you wish to learn more about fat bikes, check out
NRG Enterprises
in Nelson, BC. You may even run into author, Mitchell Scott, next door picking up some coffee on his "standard width" bike.