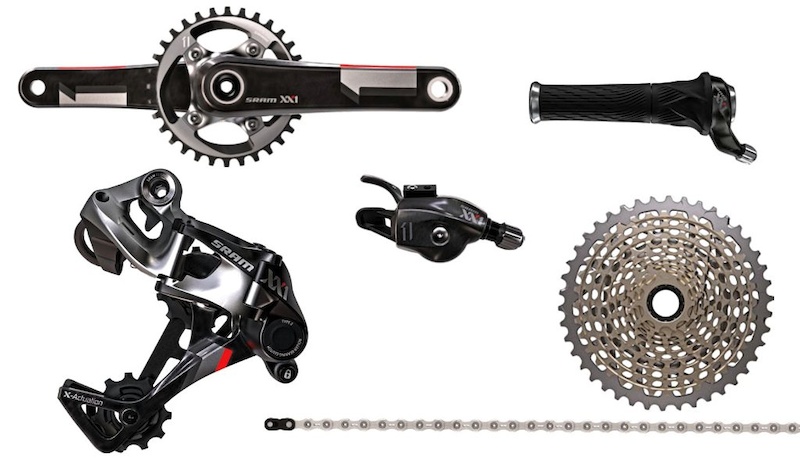 Given that many riders say there are already a few too many cogs on our modern ten speed drivetrains, it came as no surprise that there was a sizeable group of detractors when SRAM let the cat out of the bag concerning their eleven speed XX1 group. The critics cited tight tolerances that might cause trouble down the road, possible excessive wear and the high cost of replacement parts, and especially the group's proprietary components that only function when working together as one. Truth be told, we had similar concerns of our own, especially because our riding conditions often border on what out of towners might refer to as monsoon-like. Yes, our first impressions were impressive: zippy shifting, gravity defying chain retention abilities, and not one adjustment required. But it is the group's performance over the longer haul that would either prove or disprove it as a contender. Five months and 70,000 feet of climbing later, much of it in those previously mentioned monsoon conditions, has shown us what XX1 is really made of.

• Single ring, eleven speed drivetrain
• 10 - 42 eleven speed cassette and proprietary XD driver body
• Eleven speed XX1-specific rear derailleur w/ Type 2 clutch
• Carbon fiber crank arms
• X-Sync chain ring design
• XX1-specific eleven speed chain
• Eleven speed trigger or Grip Shift compatible
• XX1 group price: $1449 - $1573 USD
Group Overview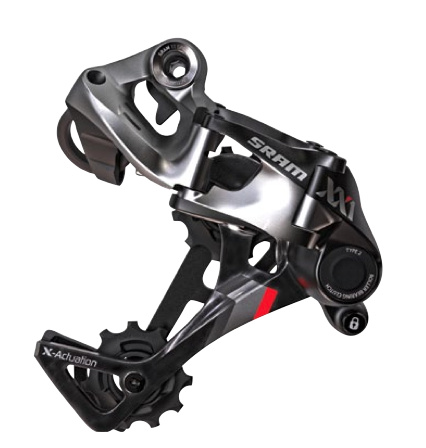 XX1 Derailleur and Shifter
The group's derailleur has been designed around the unique demands of XX1, and it can't be used with a multi-ring crankset. This is due to its 'X-Horizon' geometry, a reference to how its parallelogram is positioned to allow for movement only on the horizontal plane, whereas a traditional derailleur allows for both horizontal and vertical action in order to keep the upper pulley wheel close enough to the cassette. SRAM has managed to accomplish the same thing via a large offset between the cage's pivot point and the upper pulley's mounting location - as the cage rotates back and the chain becomes slacker, the pulley wheel shifts forward to stay close to the smaller cogs, with the exact opposite happening as you shift the chain up to the larger cogs. The result is a constant chain gap between the upper pulley wheel and whatever cog the chain is running on throughout the entire range. SRAM has also incorporated their Type 2 roller bearing clutch in order to keep enough tension on the chain to greatly limit chain slack and the potential for derailment, as well as their Cage Lock button that holds the derailleur's cage out of the way during wheel removal and installation. Both pulley wheels also use the same X-Sync thick-thin-thick tooth profile as found on the XX1 chain ring. The XX1 derailleur weighed 242 grams on our scale, and it retails for $305 USD.
The 94 gram shifter looks very much like that used to elsewhere in SRAM's group, with both a carbon fiber push lever and carbon top cover, and it is actually a hybrid of their X0 and XX models. We've always been fans of how SRAM has made accommodations for differing preferences when it comes to bar setups and the new XX1 shifter is no different: the push paddle can be adjusted fore and aft by 60°, and there are also two mounting positions for the shifter body that let you adjust where it sits relative to its bar clamp. MSRP $175 USD (w/ Discreet clamp)
XX1 Crank and Chain Ring
The $285 USD XX1 cranks themselves are actually the same carbon arms as used elsewhere in SRAM's lineup, but use a different aluminum spider with a more compact bolt pattern that allows for smaller diameter rings to be fitted. Interestingly, the crank spider is also offset slightly to allow chain rings to be removed and installed without having to pull the drive side crank off of the bike. The 513 gram (
175mm, weighed on our scale
) crankset is offered with both BB30 and GXP bottom bracket spindles, and in 170 and 175mm lengths. The matching ceramic bottom bracket retails for $210 USD.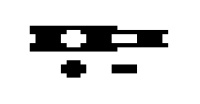 The XX1 chain ring design uses alternating tooth profiles; one with a thicker and heavily stepped shape, followed by a more standard looking tooth (shown by the graphic at right). When viewed from above, the alternating teeth match the inner profile of the male and female chain links. The radical teeth work with the XX1-specific chain to limit the chance of it lifting up and off of the ring. Size options will include 28, 30, 32, 34, 36, and 38 tooth rings, with odd ring sizes not available due to the alternating pattern of the X-Sync design. Our 36 tooth ring weighed 63 grams, and retails for $115 USD.
XX1 Eleven Speed Cassette and XD Driver
With a 10 - 42 tooth spread, including a large cog the size of a big chain ring, the group's 264 gram eleven speed cassette stands out prominently. Except for its largest cog, which is aluminum, the entire one-piece unit is machined down close to its final shape (
minus the teeth profiles
) from a steel ingot, a process that takes place in a single, labour intensive step. The dinner plate-sized large cog is a separate aluminum unit that is held in place by way of pins machined into the backside of the 36 tooth steel cog that it sits next to, with the entire range consisting of 10 - 12 - 14 - 16 - 18 - 21 - 24 - 28 - 32 - 36 - 42 tooth cogs. SRAM also forgoes using a traditional lockring to hold the $425 USD cassette onto XX1's proprietary XD driver body, with a clever system where the tube running down the center of the cassette features threads on its inboard end that mate to threads on the driver. A standard cassette lockring tool can still be used to tight or loosen the cassette, though, and the XD driver body is now compatible with a number of different wheel manufacturers' offerings.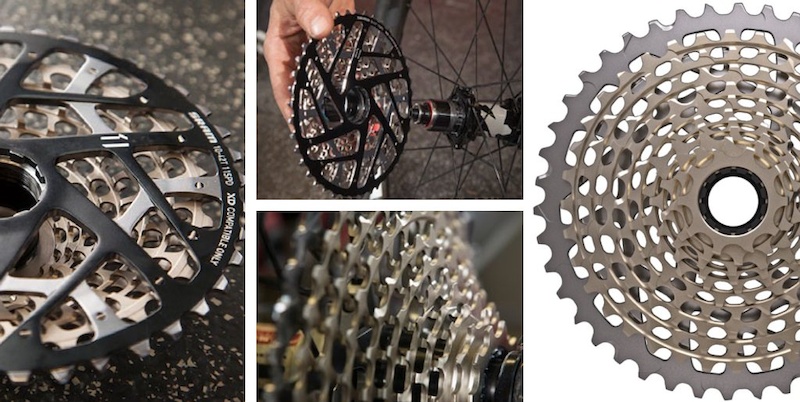 ---
Performance
Shift Action
We would be incredibly disappointed if SRAM's top tier component group offered anything other than lightening quick and hiccup-free shifting, which it does in a very seamless manner. Lever action is crisp and positive, just as we've come to expect from SRAM, with a very tactile feel to the shifter that leaves no doubt as to what just happened at the back of the bike, a great attribute for the racer who is often working the shifter paddles in the heat of the moment. Shift speed across the cassette is quite fast, with the ability to jump through five gears at a time if you are looking for a lower option, while dropping down to a harder gear is a one push, one jump affair with the single-release thumb paddle. Moving the chain up to the large 42 tooth cog is slightly slower than through the rest of the range, although that isn't a surprise given the six tooth difference between it and the 36 tooth cog that comes before it. At the other end of the range, dropping down onto the ten tooth cog also felt to take slightly longer than shifting through the middle of the cassette, but this is down to the lower cadence that the rider would usually be turning over when making such a shift.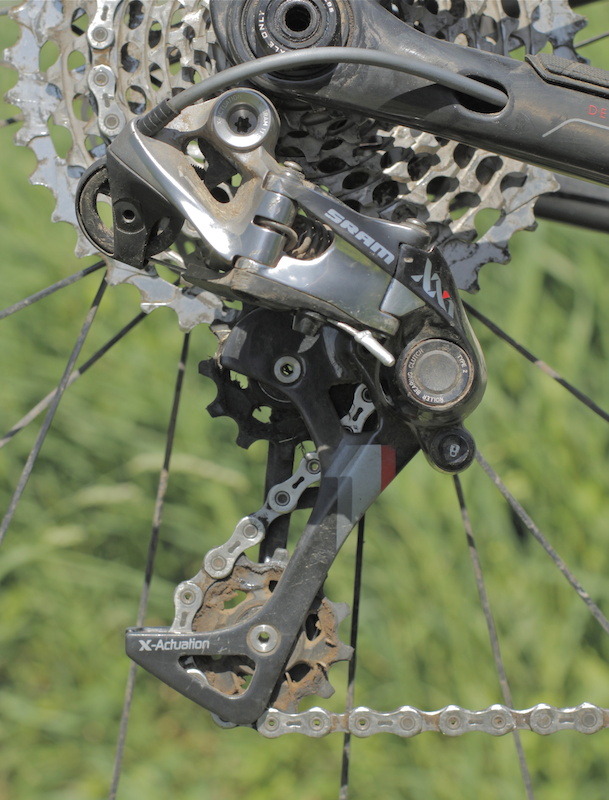 Surely shift action must degrade over time given that there are eleven cogs stuffed back there? Not anymore than what you'd find of a ten speed drivetrain, with the system requiring only a couple of cable tension tweaks over the last five months, made via the barrel adjuster at the shifter, to take up any slack that developed as the shift housing settled in. We did manage to tweak the derailleur hanger on our test bike a very small amount, though, but it was enough to put the shifting out by a fair bit. While not at all the fault of any XX1 components, it did highlight the need for near perfect alignment as that very negligible twist in the hanger put the group's shifting well out of whack, just as you'd expect it to with any geared setup.

The cassette's gear ratios and jumps felt adequate enough for a rider who gets out on a regular basis, but the key to getting the most from XX1 will be choosing the correct chain ring to pair it with. Unlocking the group's performance for each rider will come down to them being honest with their abilities while choosing a chain ring size that makes sense for both how they ride and the terrain that they spend most of their time on - using too big of a ring will only result in tired legs and a frustrated mind, and going too small will add up to you spinning circles while you go nowhere slowly. So far, the large majority of our time on XX1 has been with a 36 tooth ring, a setup that some might find a bit tall but also
one that mimics a gear ratio that we are familiar with. The result was a range that allowed for some good top end speed when in the smaller cogs, but also an acceptable low selection for tractoring the steepest pitches in our 'hood. Having said that, we would likely drop down to a 34 or 32 if we planned to ride trails that we were unfamiliar with, just in case. While XX1 has been touted as a group for only the fittest of riders, that is actually far from the truth. Fitting the smallest XX1 chain ring, a 28 tooth unit, results in an easiest gear (
28 tooth ring, 42 tooth cog
) that is the same as what you would find when using a small 24 tooth chain ring and 36 tooth cog that comes as standard with many triple ring setups. You would, of course, be missing out on some top end range while using a 28 tooth XX1 ring, but when was the last time you spun out while in your large chain ring? So while the group is light and expensive, it does make sense for more than just the pure cross-country thoroughbreds out there.
Chain Retention
Many riders, us included, couldn't believe our eyes when we saw the early images of the XX1 group being tested on rough terrain without any sort of chain guide system. How the hell was the chain staying on, even with SRAM's Type 2 clutch derailleur? The answer lies in the ring's clever alternating tooth profiles; one with a thicker and heavily stepped shape, followed by a more standard looking tooth. When viewed from above, the tall alternating teeth match the inner profile of the male and female chain links. The radical teeth work with the XX1-specific chain to limit the chance of it lifting up and off of the ring. The design proved to be very effective in the real world, with us suffering from only a single dropped chain during our five months on the group, and that lone derailment happened while we were back pedalling on rough terrain
trying
to cause an issue. SRAM doesn't claim that every rider is going to see the same success without a guide, though, especially those that regularly hang it out on choppy terrain, and we would likely recommend at least a minimalist upper slider-only setup if you're using the XX1 group on a Super-D or enduro race bike of any kind.
One of the most impressive, and surprising, attributes of SRAM's eleven speed group is its ability to remain quiet as the bike is getting tossed about on rough trails. We're talking exceedingly quiet, even more so than many downhill bikes out there with full fledged chain guides. Some of this stealthiness will be a symptom of the bike the group is bolted to, but both the sticky X-Sync chain ring tooth shaping and the chain slap minimizing clutch equipped Type 2 derailleur deserve the most credit.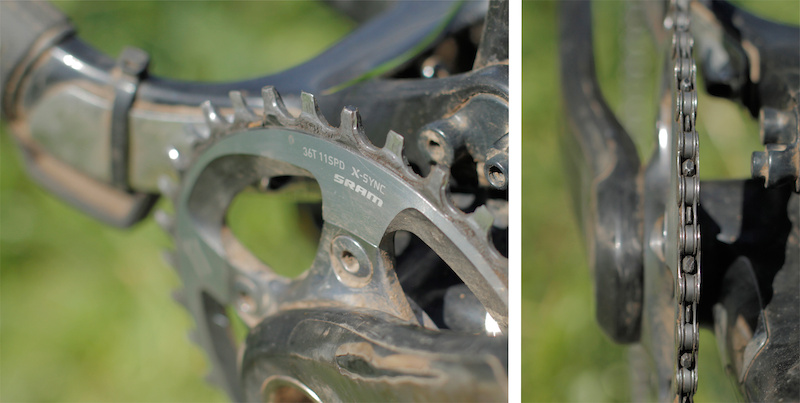 While visually hard to spot, SRAM's X-Sync chain ring tooth shaping plays a big role in the group's ability to ran sans chain guide. The photo on the right shows how the alternating thick-thin-thick teeth mesh with the inner profile of the chain.
Reliability
Five very solid months of riding, including roughly 70,000ft of climbing, much of it in the rain and mud, have shown that the group can stand up to the elements well. Our main concern boiled down to the intricate shape of the X-Sync tooth profile of the proprietary chain ring - would its chain retention abilities degrade as the teeth wore? The ring's wear rate has been impressively slow given that the chain is on it 100% of the time, unlike a double or triple ring setup where the rings share the work, and we'd say that it will likely last the rest of the season before needing to be replaced. The single dropped chain mentioned above isn't likely down to any wear, but rather a combination of the extremely rough terrain that we were on at the time and back pedalling. The chain itself hasn't failed during testing, and it now sits at .50 on our Park Tool chain checker, meaning that it's time for it to be replaced so as to not cause undo wear of the rather pricey XX1 eleven speed cassette. We've heard reports of increased pulley wear rates on clutch-equipped derailleurs, an issue that would make sense given the increased chain tension that helps to keep the chain in place, but this isn't something that we can complain about with the pulley wheels on our XX1 derailleur - they still look near new.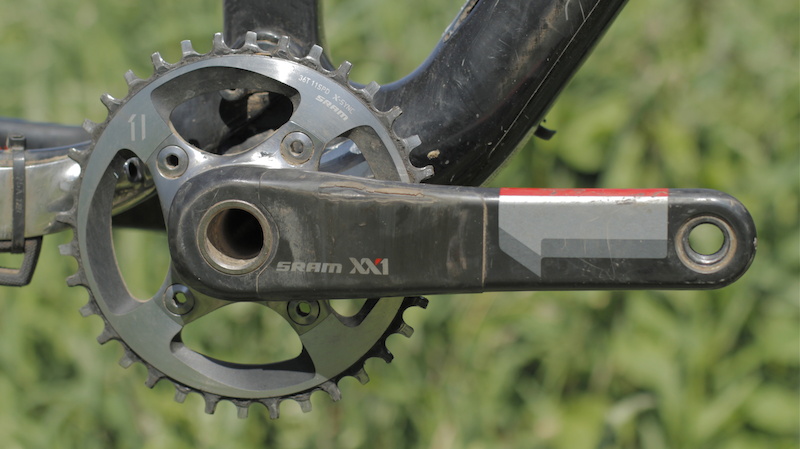 The cranks might look a little rough after five months of use but are sporting only cosmetic damage. Zero creaks or groans, and the bottom bracket is just now starting to turn rough.
The group has taken its fair share of punches during testing, and it is certainly sporting a few good scars and bruises to show for it. The ends of the carbon fiber crank arms have seen quite a few strikes in particular, with a number of deep gouges where they have made contact with the rocks, and impact marks on both the derailleur's cage and its parallelogram are evidence of direct hits. All of the above has resulted in only cosmetic damage, though, with performance not being affected whatsoever. We're also confident that the impacts have only caused superficial damage, and that none of them will have an effect on the group's long term performance.
We were curious as to how the drivetrain would perform in extremely muddy conditions, especially when the chain was on the small ten tooth cog. Would it skip under load when packed with mud? Would the small cog wear excessively fast? The answer to both of the questions is no. Skipping was not an issue, even when trying to put the power down on chattery terrain, nor did such a problem arise when the cassette was packed full of mud.
Issues
We've been using our XX1 test group since mid January of this year, with it seeing action on everything from Sedona, Arizona's, dusty and rocky singletrack to backyard epics on our muddy B.C. coastal mountain ranges. Given the amount of abuse that we've heaped onto the components, they have been relatively trouble free. We experienced a seized upper pulley wheel after two months of use, a problem that was solved by first running some thinner lube through the pulley's sealed bearing, followed by injecting a dose of grease, with it continuing to turn smoothly since.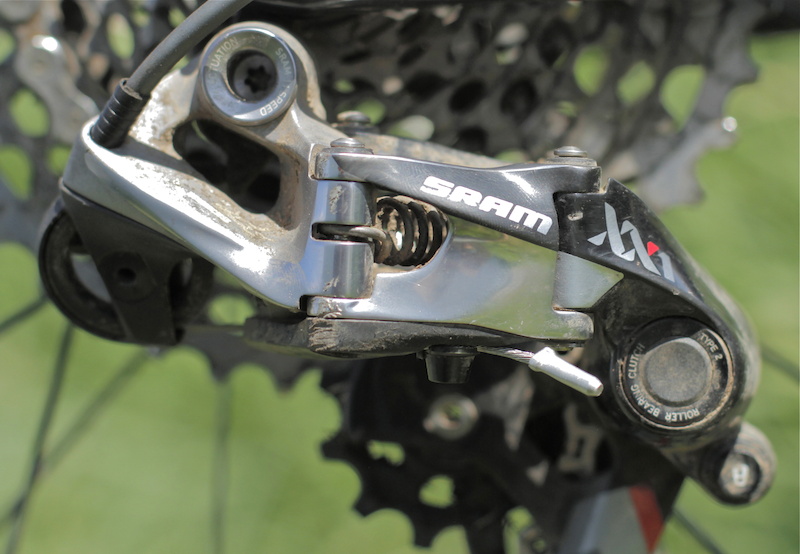 Close contact with rocks has left the derailleur with some scars. It still functions like new, though, and its clutch system hasn't lost any of its tension.
One interesting phenomenon that we weren't expecting is how the X-Sync tooth profile used on both the chain ring and the pulley wheels seems to pick up more trail debris than a standard setup. It wasn't uncommon to see much more mud than usual packed onto on both during a sloppy ride, and we even found that the ring would grab and hold onto leaves that managed to find their way up onto the drivetrain. This may be a localized occurrence - our singletrack is often wet and littered with trail scraps - and it never caused any skipping issues, but it is worth noting regardless.
Our only other concern boils down to a very strange popping noise that would occur intermittently and only during high torque scenarios, once or twice a ride at most. Talking to a few other riders who have time on XX1 revealed that they too noticed the noise, although none of them, ourselves included, ever suffered from any mechanical issues related to it. The sound only occurs when the chain is riding on the large 42 tooth cog and while powering up a steep incline, leading us to believe that it is a result of the chain interfacing with the thicker and heavily stepped X-Sync chain ring teeth while at the acute range of the chain line. Again, there were no mechanical issues related to it.

Our first ride on SRAM's XX1 took place on Whistler's rocky terrain. The group performed well at the time, and we haven't been let down by it since.
Pinkbike's Take:
| | |
| --- | --- |
| | It's expensive, it uses proprietary components that only function properly together, and, much to many people's dismay, it adds yet another cog to the cassette to bring the total to eleven. It also functions incredibly well, is very reliable (barring that troublesome pulley wheel bearing, a relatively minor quibble), and has also shown itself to be a remarkably versatile component group - barring freeride and downhill bikes, XX1's performance makes a lot of sense for nearly every type of mountain bike, from hardtail race rigs to 6'' travel all-mountain machines. The $1449 USD asking price for SRAM's single ring super group, while actually less expensive than some other high-end drivetrains out there, means that it simply won't be an option for many riders. That is a shame because we feel confident in saying that XX1 is well suited to how a lot of us approach mountain biking, and it also goes a long way to simplifying our bikes while adding performance. We chose the XX1 drivetrain as one of our favorite and most innovative products of 2012 and, after many months of use, we still stand by that choice. - Mike Levy |
www.sram.com