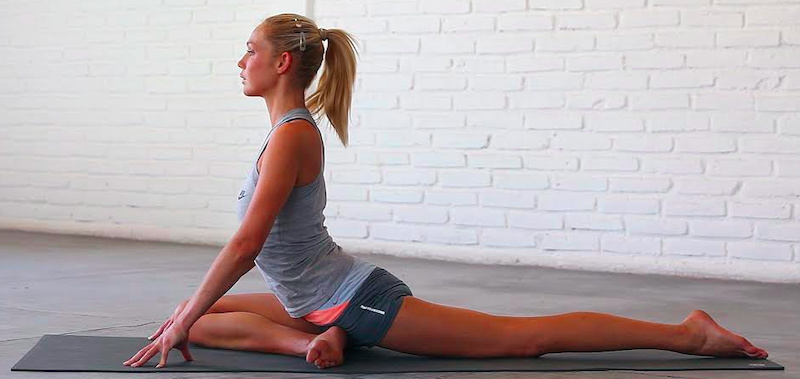 "I
t is easier to go down a hill than up, but the view is from the top.
" -
Arnold Bennett
Lower back pain is the most common complaint I hear from the biking community. It is highly prevalent and many riders who suffer don't realize that a short, simple yoga routine performed consistently could completely alleviate the pain.
Charley Smith, Elite Enduro racer, was the first biker with debilitating lower back pain that I worked with and who experienced complete recovery with a specifically designed yoga routine. When the pain was at its most severe, he was not even able to get out of bed and was told that he would have to schedule back surgery. His injury and so many like it was caused by multiple hours on the bike coupled with long periods sitting for work. This combination creates an imbalance in the strength and flexibility of the quads and hamstrings causing the pelvis to be pulled out of alignment, leading to discomfort in the lower back. The pain comes on gradually as the rider builds strength in the quads; loses flexibility in the hip flexors and hamstrings from over-reliance on the seated position; and can be aggravated by a fall or sitting/driving for long periods.
The first few poses I showed Charley instantly had a pain-relieving effect, getting him back on his feet in only a few minutes. We then designed a routine together that worked with the whole spectrum of imbalances that he had developed due to the imbalances in strength and flexibility inherent to biking - aligning the pelvis, stretching the leg muscles, building strength in the core and glutes and increasing flexibility in the hips. Now, as long as he practices this sequence every couple of days, he has zero pain and can train harder and ride longer than ever before.
If you suffer from chronic back pain, I strongly advise that you see a physiotherapist to guide you in your rehabilitation and to check that it is safe for you to follow this routine.
I have broken down the sequence into short videos so that you can take it at your own speed and to help you in the learning process. When you come to each pose, move mindfully, in any way that relieves tension and discomfort, swaying from side to side and modifying the pose to suit your own individual areas of tightness and misalignment. Be careful not to just follow the sequence blindly and instead pay attention to how each pose can offer you the most significant relief.
Some of the poses are fairly advanced so don't feel you have to master the whole sequence on your first time through. Take it slow and be careful not to overstretch or move your body in a way that increases your discomfort.
Repeat this routine every few days to prevent the pain from creeping back.
Begin each yoga session with a few deep breaths, in and out through the nose, to relax your body, calm your mind and bring your full attention to the routine.
---
Warm up your spine and the backs of your legs with a couple of half sun salutations. As you swan dive down, keep your back flat and bend your knees as much as you need to as you come into forward fold.
---
Stay in ragdoll for as long as you like, swaying from side to side and releasing your spine with every exhalation. Again, you can bend your knees as much as you need to.
---
Alternating between cat and cow pose increases mobility along the entire length of the spine and stretches the neck, shoulder, back and abs.
---
In downward dog, it is perfectly fine to keep your knees bent. First, focus on lengthening your spine and over time, your calves and hamstrings will start to loosen up. Instead of forcing your heels towards the mat, walk out your feet to gradually increase the flexibility and suppleness in the backs of your legs.
---
This mini core sequence strengthens the abs, obliques and lower back. You can stay in each of the poses for up to 10 breaths, in and out through your nose, but correct form is of primary importance so build up slowly to longer holds.
---
In high lunge, focus on dropping your pelvis and bringing your front thigh parallel to the mat as you start to open up your hips.
---
Take as long as you need to in low lunge, lizard and pigeon pose - moving in any way that relieves areas of tightness. Breathe deeply into the poses as you start to feel your entire pelvic area release and realign. Mobility in the hips is crucial for improving your cornering and increasing your agility on the bike.
---
Half reclining hero is an intense quad stretch. Start on your elbows and progress to the full version of the pose only when you feel ready.
---
Bridge and wheel are intense backbends that stretch the spine and strengthen the entire body. Wheel is a very advanced pose so build up to it slowly, starting with just a few breaths and progressing to longer holds as you gain confidence.
---
Reclining spinal twist realigns and releases your spine and we finish with a short body scan meditation to allow the adjustments in your body to sink in.
---
You can watch the full routine on my website:
www.yoga15.com
I hope that this routine helps you with your back pain and significantly boosts your performance and enjoyment of biking.
Please let me know if you have any questions about the sequence or if you would like any advice in personalizing the poses to alleviate your own particular pain or discomfort.