Graham Agassiz thinks the word "freeride" might be dead. Or dying anyway. At the same time he's cool with being called a "freerider." Talk to a lot of pro mountain bikers these days and there's a good chance they'll agree. "Freeride" as a word, is fading from the mountain bike canon. That or its true definition is changing, perhaps now misunderstood, or mired in confusion. Think about it for a second. When was the last time you used the word? When was the last time you read the word? Sure, it's still out there, but for those of us who saw the genre widely categorized as "freeriding" rise to meteoric mountain bike fame, with a heyday that peaked out say, four or five years ago, the current state of affairs begs the question, what does it really mean?
Let's back up a bit. This is all relatively new territory, the dual suspension mountain bike game that is. If you were riding bikes in the year 2000 you knew that long travel offerings were slim. Freeride was revolutionary because it opened riders up to new worlds of possibility. It transported our sport and some of its athletes into the film star stratosphere, a hierarchy that only existed in sports like surfing, skateboarding and snowboarding. Finally mountain biking had non-competition athletes who merely had to shred and be cool. Life was good.
But we had to label it. A weird side-effect of our sport. Mountain biking has more classifications and sub-genres than the Periodic Table of Elements. But for such a significant label, one that did so much so fast, where did freeride go? How could it possibly be dying?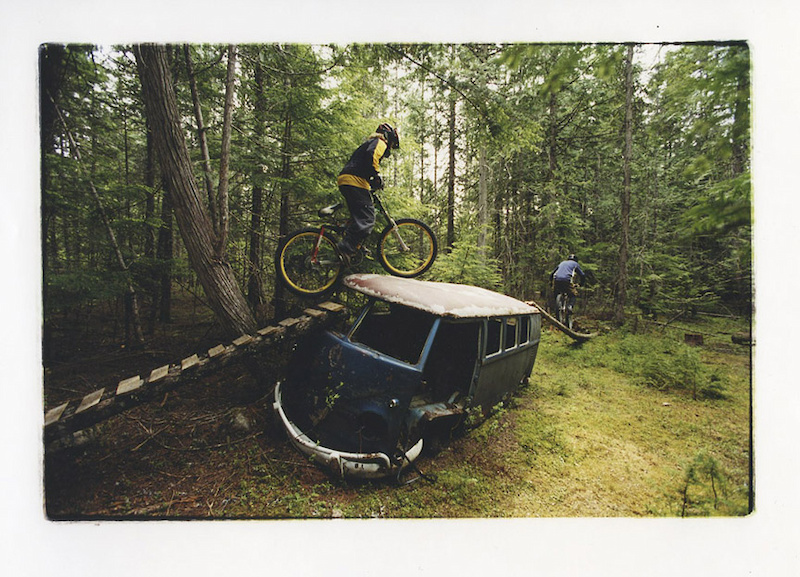 Robbie Bourdon and Joe Schwartz back in the early days of Nelson, BC freeride grandeur. Photo: John Gibson
Only a few short years ago magazines around the world were writing about the import of freeriding, how it was revolutionizing the sport. There were emerging pros, guys who went on to have fantastic careers, athletes like Wade Simmons, Richie Schley, Robbie Bourdon and Thomas Vanderham -- some of the first mountain bikers to cut a pay cheque without going through a finish line. Not only that, they were (and some still are) some of the best paid and most visible athletes in the entire industry. Companies were building specific bicycles just for them: 7 to 8 inches, with graphics and marketing campaigns that were way more vibe than race.
The pro downhillers deplored their Camelbak bullshit. XC racers were jealous of their big success sans 24/7 training. Yet they were the dudes. On the covers of magazines, featured in all the films, sponsored out the wazoo--from freeride shoes to freeride helmets, freeride jerseys and freeride gloves. There was even hot girls around. And then it all seemed to drift away. Think not? Just look around and tell me what you see.
Search the industry for a "freeride" labeled and promoted mountain bike. Doesn't really exist. Try and find a "freeride" branded team like the Kona Clump. Even Specialized's first gravity athletes were all of the freeride ilk, and Trek's too for that matter. Just think, not even eight years ago neither of those bike companies had a single bike with more than 5 inches of travel, now they have two of the strongest DH race programs in the world. The initial foray for both powerhouses was inspired by freeriding, not downhill racing. We're talking serious, multi-million dollar paradigms here. And "freeride" had everything to do with it. Now it has very little to do with either companies long travel dual suspension program--on the surface anyway.
Freeriding is all about not competing, which is approximately 99% of what mountain biking is. "You can't put a number on freeride," explains Agassiz. "Racing is all about times, and slopestyle is all about score, freeriding had nothing to do with any of that." More specifically, according to Aggy, it's about not riding trail, specific freeriding should be unbounded by the structural confines of singletrack or manufactured landscape. "Just shredding lines down gravel chutes and cliffs," says the 21-year-old from Kamloops, BC, what many refer to as freeriding's birthplace. It's that whole notion that got everyone excited in the first place. It's what inspired the folks at Red Bull to host the first ever Red Bull Rampage, which, if you think about it, might have been the main contributor to the fade on freeride's original gleam. Now it was a competition. Now you weren't freeriding anymore. Now your style and your line choice and the amplitude of your air counted for something.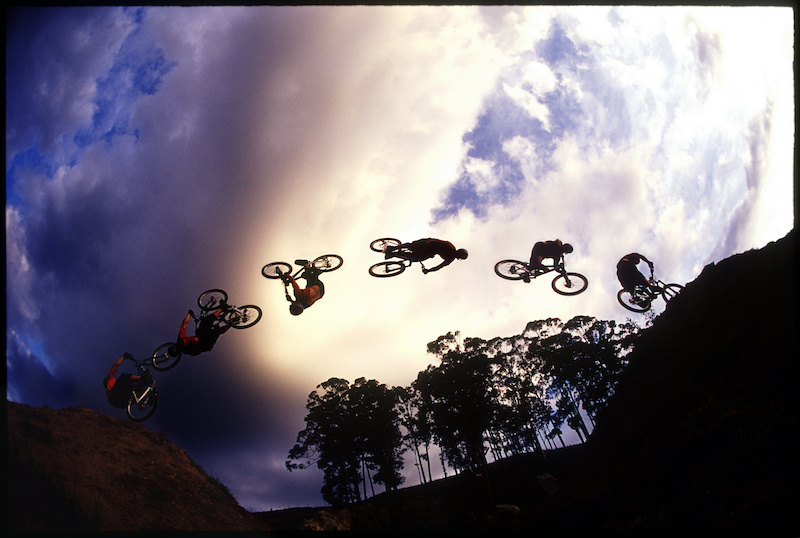 Freeride pioneer John Cowan filming during NWD 5. Photo: John Gibson
Just look at what ensued: slopestyle competitions that struggle to find the sweetspot between a dirt jump comp and a big mountain comp (which is what?). Athletes that struggle to find the same happy place. You've got this Freeride Mountain Bike World Tour, which has a lot of us (and apparently a bunch of the athletes) wondering what that all means, especially considering the huge range in some if its more marquee events. Sure, it's just a name, but is Crankworx really a freeride competition? Or what about 26 Trix? Isn't that more dirt jump that freeride? Which brings us all back around to the big question, what the hell does freeride mean in 2011? And I ask you because no single person seems positioned to lay down the real answer. Ask yourself the question, how do you label a kid like Aggy? Paul Bass? Brandon Semenuk?
I still think you can call athletes like Vanderham, Hunter, Bourdon, and Simmons freeriders, but where's the next generation, and where do they fit into the equation? Hopkins? Buehler? Sorge? Are they qualified as freeriders? Talented as they are, they're not competition athletes. So if not, how does a company qualify their results? Hopkins recently starred in one of the biggest mountain bike movies ever, Life Cycles. Just so happens Scott let him go shortly after its release. Go figure.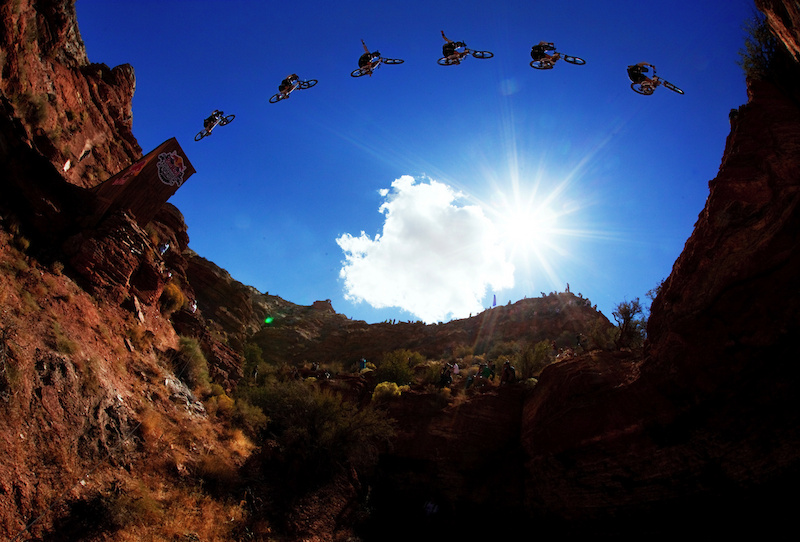 Graham Agassiz at last year's Rampage. Freerider? Mountain biker? Big mountain slopestyler? Photo: Ale Di Lullo
So how do we qualify the evolution? Street, DJ, bike park, downhill, enduro, slopestyle, these are the children of freeride for the most part. The question is, are they being respectful of their forefathers? Individually you would think, no question, but collectively, well, to keep the analogy going, once you've grown up, you don't really need your parents for much do you? Save maybe a little cash and a place to crash when you're passing through town.
That all being said, head on over to Europe and ask anyone whose got more than six inches of travel and they'll all tell you they're freeriders. Proud of it too. But that just might be a transAtlantic delay. Europe outscores North America on pretty much every fine development in the modern world. But they weren't the first when it came to knobby tires and catching air in the woods, nope, that's purely a North American invention. Surely, if freeriding dies as a reference over here in North America, it won't take long for the Euros to catch on.
So, here's the question, a fairly significant one at that. Is freeriding on its way out the door? Is it really true that one of the most important, revolutionizing movements in the history of our sport is now seeing its influence eclipse into a professional venue wholly committed to times and scores and world tour points? In the end, I don't think any of us get to decide. There's something larger going on, and we can only wonder with great excitement what that might be. Quite certainly though, I would guess, that we probably don't need to give it a name. Aggy would prefer we didn't.
Agree or disagree, curious to hear all your thoughts