FIRST RIDE
Specialized S-Works Enduro 29 SE
WORDS:
Matt Wragg & Richard Cunningham
Specialized unveiled a breakthrough 29er

in Finale Ligure, Italy, that handily solves some of the major issues that have, up until now, restricted the rear wheel travel of most big-wheel bikes to around 120-millimeters and tire widths at or below 2.3 inches. The Enduro 29 SE is aimed directly at international enduro competition, with 155-millimeters of wheel travel, make-it-happen geometry and frame clearance for full size tires up to 2.5 inches wide. Right about now, naysayers are probably quoting a handful of pre-existing 29ers with similar travel, but such numbers, especially in the arena of big-wheel bike design, are misleading. Enduro 29 SE frames sport a 430-millimeter (16.9 inch) chainstay length. That's only eleven millimeters longer than the already compact stays of the 26-inch Specialized Enduro. Comparatively, that is over 25-millimeters shorter than the best 29ers in the 120 to 130-millimeter range. You'd need a yardstick to measure the chainstay lengths of most 29ers with rear-wheel travel longer than that. Starting with a rear end that compares to a 26-inch all-mountain design ensures that the Enduro 29 will turn, climb and maneuver with similar nimbleness - attributes that have eluded all but the most elite 29ers to date. Up front, the Enduro 29 backs up its promise of on-trail performance with a 67.5-degree head angle and a 150mm Fox 34 Float CTD fork. Between the wheels is a cleverly designed frame with an x-braced carbon fiber front section, suspended by a welded aluminum FSR rear end.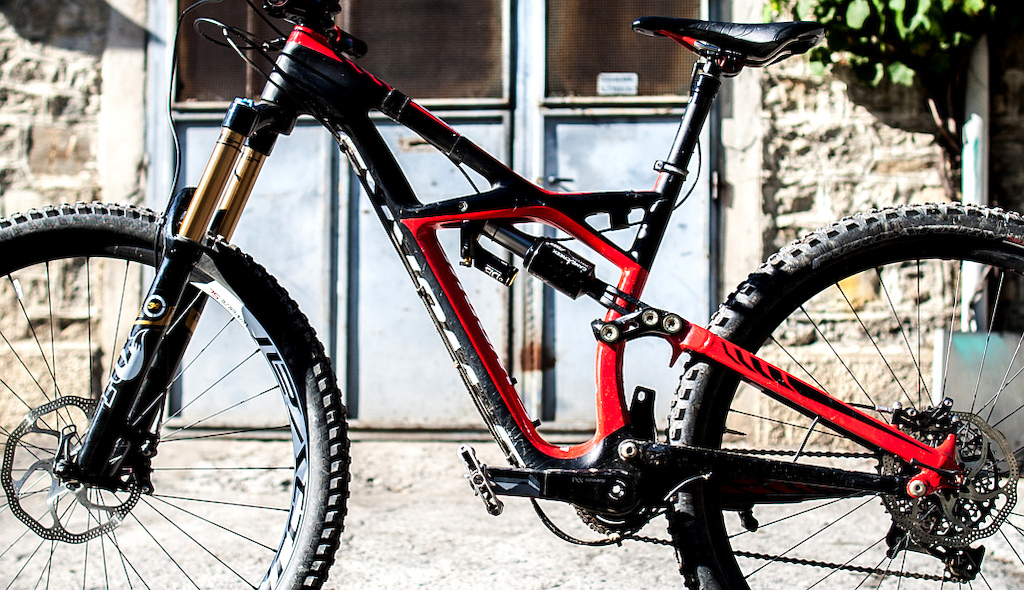 A look at the frame reveals a compact carbon front section - squeezed by the fact that the seat tube was moved well forward to provide tire clearance for the additional rear-suspension travel. The Enduro 29 SE's actual seat tube angle is 69 degrees, but an imaginary line from the crank axle through the seatpost head, measured at an average ride-height, works out to an effective angle of approximately 75 degrees.
Specialized also went all out in the component department. The top-range S-Works Enduro 29 SE is built around SRAM's XXI wide-range one-by-eleven transmission and four-piston X.0 brakes.The S-Works 29er rolls on Specialized's recently released Roval Traverse SL tubeless carbon fiber wheelset, and up top it gets the new internal-cable Command Post IR dropper and a host of Specialized cockpit items, mostly crafted from carbon fiber. At the heart of the S-Works Enduro is a Cane Creek Double Barrel Air shock, which has been factory tuned for the bike. For those interested, the Enduro 29 SE will be available in three models, with the S-Works (tested) starting at $9,000 USD, followed by the more-affordable Expert Carbon and Comp. Sizes are medium, large and x-large (Specialized's magic, unfortunately could not shrink the height of a 29er) and the stated weight for the S-Works Enduro 29 SE is 27.6 pounds (12.55kg).
---
Construction Details
Presenting the Enduro 29 SE to the assembled journalists, Brandon Sloan, the bike's designer, read out a mind-bending list of numbers and details, like 155 millimeters of rear-wheel travel, 430-millimeter chainstays and a 67.5-degree head-angle. To put those numbers into context, Niner gets 140 millimeters from their WFO and the Santa Cruz Tall Boy LT has 135 millimeters. More than that, the Enduro 29's chainstay length is significantly shorter than many 160 millimeter travel 26-inch bikes. When pressed as to how Specialized achieved those numbers, the answer was not magical. The engineers looked at every aspect of the frame design where they could squeeze out more clearance and also selected components that offered the same advantages. The end result is a long-travel 29er in a compact package - the wheelbase is just 1159 millimeters for the medium sized bike.


The seat tube is moved forward and curved to clear the tire at full compression and the swingarm was ovalized near the bottom bracket to make room for larger tires. The chin-shaped lower brace at the upper end of the seat stay linkage is thinned and profiled to miss the seat tube. Using SRAM's XXI single-chainring crankset bought a lot of tire clearance, and in the case of the Expert Carbon and Comp models, which use a two-by-ten drivetrain, Specialized devised a thin, swingarm-mounted front derailleur bracket called the 'Taco Blade' to squeeze between the rear tire and its SRAM bottom-pull front mech. By affecting a number of small improvements in the critical bottom bracket area of the Enduro 29's rear suspension, Specialized gained an inch of rear-wheel travel and room for full-sized racing tires.




(Left) Specialized calls it an X-Wing frame design. The cross-braced front section has been the trademark feature of its Enduro series. S-Works models get the new Cane Creek DBair shock, which can be tuned externally to suit almost any riding style. (Right) The 142x12-millimeter through-axle is a must for true all-mountain abuse.
.
Component Highlights
At the heart of the S-Works bike we were riding was a handmade Fact 11M carbon frame - this is Specialized's highest standard carbon for mountain bikes.The cranks turn on a PF30 press-fit bottom bracket and out back is a 142x12-millimeter rear axle. A Cane Creek Double Barrel Air shock controls the rear wheel and a travel-adjustable Fox TALAS 34 CTD fork sits out front. Impressively
(1640-gram/pair)
light Roval Traverse SL wheels are shod with Specialized-brand 2.3-inch Butcher and Purgatory Control tires, and the DT-Swiss made rear wheel contains the special freehub to mount the SRAM XX1 cassette.
The S-Works Enduro 29's drivetrain is XX1, paired with SRAM's four-piston XO Trail brakes. It is worth noting that Specialized chose to mount an e*thirteen XCX+ top guide and did not rely solely on SRAM's claim that its XX1 sprocket will keep the chain in order. The test bike had the standard Specialized Command Post Blacklight, but production Enduros will have the 'IR' version with internal cable routing. Up front were a 720mm Specialized-branded bar and 60-millimeter stem, and there was some discussion as to what sizes would see production. For the test, I swapped those out for my benchmark Renthal 760-millimeter handlebar and 50-millimeter stem combination.
---
S-Works Enduro 29 SE
First impressions
Knowing I was going to ride Specialized's Enduro 29 made me nervous. I freely admit that I think its 26 inch-wheeled brother is the best all-round mountain bike out there. It's the one mountain bike I actually own, the one I don't need to worry about explaining in a review or handing back all-too-soon. So to find out they'd butchered big, circus wheels into a new version of it worried me. Driving down to the camp I spent my time trying to figure out how I'd explain to the people who had poured hours of their time into this bike that it was an abomination. How do you tell someone that they've taken a great bike and turned it into something that would make the baby Jesus weep?

- Matt Wragg
Suspension setup:
I use a decidedly stiff setup for my suspension. Fox's Float CTD forks have a tendency to blow through their travel, so sorting this out was where I started with the new Enduro. For me, having the fork stand up in the travel is always the winner because I push the bike hard, but it comes at the expense of low-speed sensitivity and outright comfort. When the going gets ugly, having the front end dive can either cause the bike to fold under you or send you out the front door. I have the scar tissue to testify to that. To achieve this, I run the air spring very hard and leave the CTD adjuster in the medium, 'Trail' setting as a default to add more compression damping. This makes for a fork that feels unforgiving at low speeds, but as you get faster and hit things harder it comes alive and keeps you out of trouble when you most need it to. Matching the fork meant putting a lot of pressure into the Cane Creek Double Barrel air shock, which was a real shame, because I didn't scratch the surface of the this fully-adjustable shock's amazing potential.
Climbing:
We didn't spend much time climbing, so I can't report on how the bike does on longer drags, but as it's light, stiff and comfortable I wouldn't expect it to be anything other than fast. On short, steep climbs, the front end was a touch high and once I even caught myself reaching for the dreaded TALAS switch to lower the fork to get its front end back under control. With more time on the bike, this would be something I would want to play with to figure out whether I would need to adjust my technique, or try and lower the handlebar height.
Descending:
The first thing you notice when you start going downhill on this bike, from the very first pedal stroke, is how fast it is. It picks up speed alarmingly. Even rolling into a straight from the trailhead it seems to find speed from nowhere. With the big wheels and relaxed geometry it feels strangely stable as well. You suddenly find yourself coming into corners and technical sections with far more pace than is comfortable. On the first couple of runs, this meant moments of total fear. Judging entry speed was tough and with the big circus wheels under me, there seemed to be no way the bike would be able to stick it. So I just went steaming in and prayed. After a few of those moments, a realization dawned on me. It wasn't blind faith getting me through the corners, but the bike. Once I started to trust it and give it some muscle, I began to understand just how capable this bike was.
Final Thoughts
As part of the launch, we took the bikes down a trail in Finale Ligure called Cacciatori (Hunters). It's one of the older trails in the zone and it has always been steep as hell, but years of neglect have turned it into a rock-strewn nightmare. Huge holes, rainwater channels and awkward rocks have been exposed, so what was once a tough trail is now a near-vertical minefield of baby head rocks. On that kind of terrain, the Enduro 29 was nothing short of impressive. I could nimbly skip between features, hold a line or turn the bike on a dime as the trail twisted back on itself. When I faced the holes, the big wheels made life easier, I felt a lot further from being thrown out the front door than I do on a 26-inch bike. Catching my breath at the bottom, I had to admit I was wrong about this bike. Cacciatori is the kind of trail that I assumed would feel horrible on a 29er, but the Enduro 29 felt in its element there.


To further understand more about the differences between the 26 and 29-inch Enduros, I was lucky enough to take the bike back to one of my home trails. Taking the bike down a trail I knew inch-by-inch was the perfect opportunity to get my head around its finer points. While the handling is fast on the 29, faster than many 26-inch bikes even, I could catch it out. There is one section where you must kink between three rocks, threading a very fine line between them to stay off the brakes. On the 29 it didn't quite make it, there was almost a feel of understeer at the exit of the section and a handful of brake was needed to avoid the final rock. It was harder to flick through the technical sections that I am used to doing and to launch off tiny undulations in the trail. But we are talking tiny percentages and small details on a trail that I sometimes ride six times a week; they don't detract from how shockingly capable this bike is.


Component Report:
•
SRAM's XX1:
Good - XXI provided the crisp gear shifting I was expecting. Bad - on the second run of the first day I managed to snap the chain trying to put power down out of a corner. It's not clear how this happened and it seems to be a fairly unique event. The XO Trail brakes that accompanied it were a disappointment, they never offered quite enough power and the bite point felt vague and inconsistent. When it came to descending bigger mountains, they didn't survive the heat build-up well.
•
Command Post Blacklight Dropper:
Bad - the Specialized mechanical dropper had slightly too much air pressure in it and nearly took out one of my testicles. Good - after I'd taken some air out of the system, an easy job of popping the post off the bike and opening the valve at the base, it worked as well as I hoped it would.
•
Roval Traverse SL wheels:
Good - 'impressive' is the only word for the Roval wheelset. Over the short test period, I hit them as hard as I could and did my usual trick of landing everything at a weird angle, and they didn't complain once. The same goes for the hookless-bead tubeless system; the carbon rims held air perfectly and I can't report a single problem.
•
Butcher and Purgatory Control Tires:
Good - when the bike was upright, the Specialized tires were fast rolling and grippy. Bad - when I got them on their sides, they seemed to be lacking grip and didn't encourage me to push the bike hard. On loose, dusty trails they were not confidence inspiring on the edges and this is a shame because they rolled quite nicely. If Specialized beefed up the side profiles, they would be fantastic.
Pinkbike's take:
| | |
| --- | --- |
| | I was wrong about this bike. It was nothing like I feared it would be and, no matter how much I look at the numbers, I still don't really understand how Specialized have managed it. This bike, without question, pushes the boundaries of what is possible with a 29-inch wheeled bike. It also throws light back onto the question of whether or not we need 650B bikes when 29ers can handle like this. This bike blew away any preconceptions of what I thought a 29er could or should be, and for that reason alone I love it. Would I trade my 26-inch Enduro for the newer, bigger-wheeled version? Probably not, as personally I still prefer the immediacy of the smaller wheels, but it's a far closer call than I would have ever imagined it could be. -Matt Wragg |
www.specialized.com
Must Read This Week