If you were to choose a single adjective that could be used to describe all of the finalists for this year's Trail / All-Mountain Bike of the Year category, 'capable' would be a good choice. Any one of these bikes is capable of taking on properly rowdy terrain, and in fact, every single one of them has seen action at Enduro World Series events, in many cases helping to deliver their riders to the podium. As amusing as it is to poke fun at the 'e' word, the growing popularity of the enduro race format has helped push companies to create bikes that absolutely shred on the downhills while also climbing reasonably well, a trend that ends up benefiting all riders, regardless of whether or not they ever plan on rolling up to a starting line.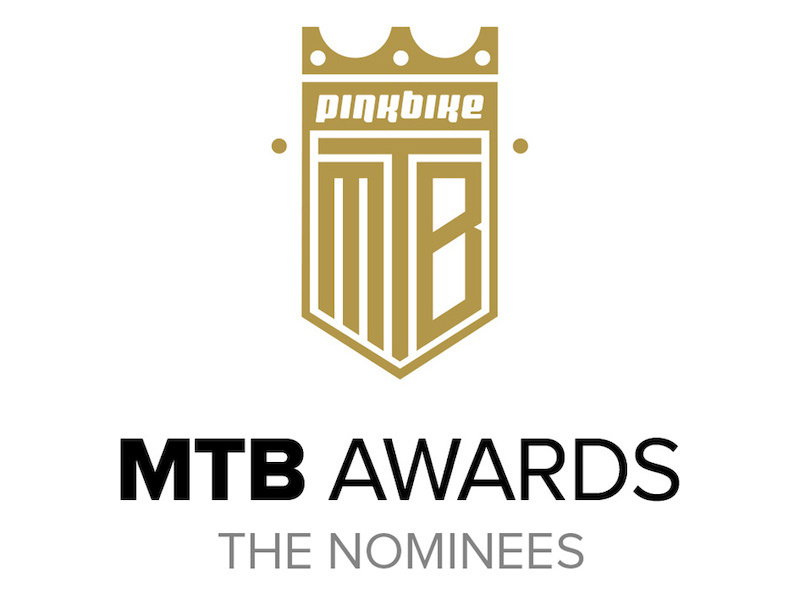 Santa Cruz Nomad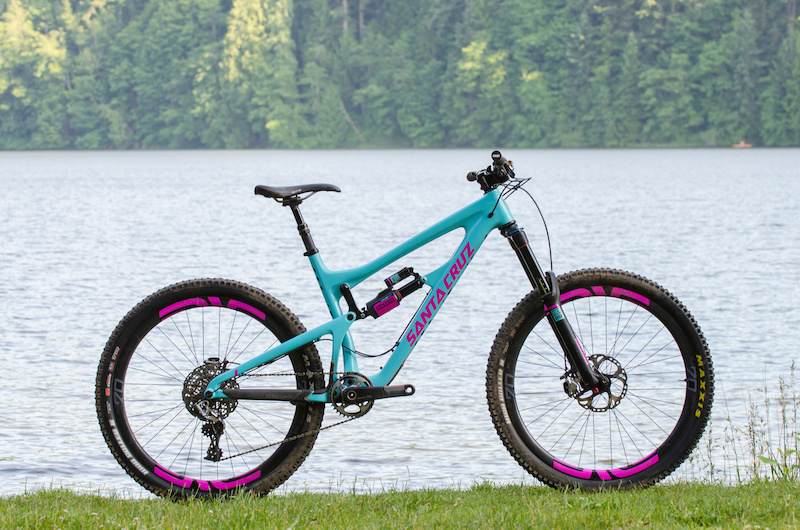 Santa Cruz drew from everything they'd learned over the past decade regarding geometry and suspension design in order to create the latest version of the
Nomad
, a bike with 165mm of travel that can tame the most technical trails on the planet while still possessing efficient pedaling and a light fighting weight, traits that help take the sting out of those long grueling climbs. To go along with its spot-on geometry, the Nomad's features read like a bike nerd's wish-list: a full carbon frame, complete with internal cable routing, a revised VPP suspension layout that tucks the lower link up into the frame and out of harm's way, space for a water bottle inside the front triangle, and on top of all that there's even a threaded bottom bracket shell. Santa Cruz absolutely nailed it with the Nomad, creating a bike that combines beauty and brawn into one outstanding ride.
Yeti SB5c
The
SB5c
introduced Yeti's Switch Infinity suspension design to the world, a system that uses two Kashima coated rods to control the rear wheel path as it goes through its travel. The intention is to provide an excellent pedaling platform for climbing and sprinting, while still retaining a bottomless feel for the bigger hits. The best thing about the new design? It works exactly as claimed, and the SB5c was one of the best pedaling bikes we threw a leg over this season. It's no slouch on the downhills either, a fact that Richie Rude helped demonstrate with a second place finish at the Winter Park stop of the Enduro World Series. There aren't many trail bikes that can boast results like that, and it's a testament to just how incredibly well rounded this futuristic-looking carbon creation truly is.
Intense Tracer 275 Carbon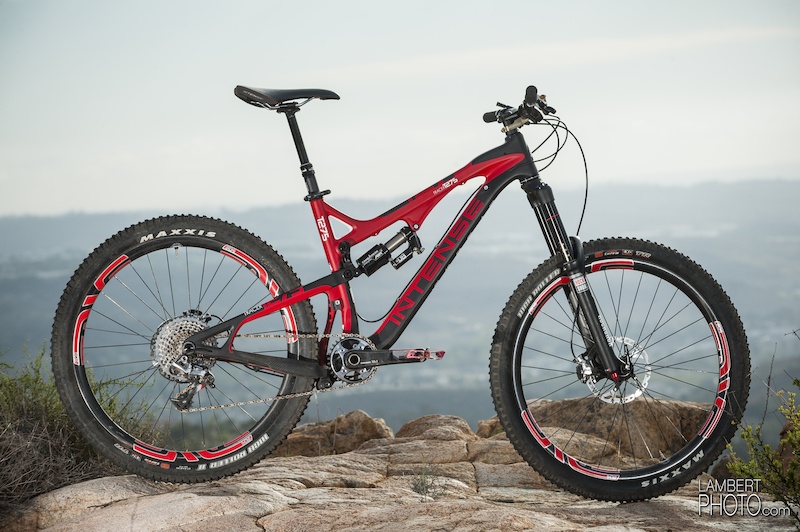 "XC light and DH fast" were the words RC used to describe the carbon version of Intense's venerable Tracer when it was
reviewed
earlier this year, an apt description for a bike that can handle everything from smashing out laps in the bike park to spinning for hours on big backcountry adventures. In addition to constructing the frame from carbon fiber, Intense updated the Tracer's geometry, giving it a slacker head angle and steepening the seat tube angle, changes that boosted its downhill performance up a notch, while also creating a more comfortable climbing position. The Tracer is the flagship in Intense's lineup, a top notch creation that epitomizes how a modern all-mountain bike should look and behave.
GT Sanction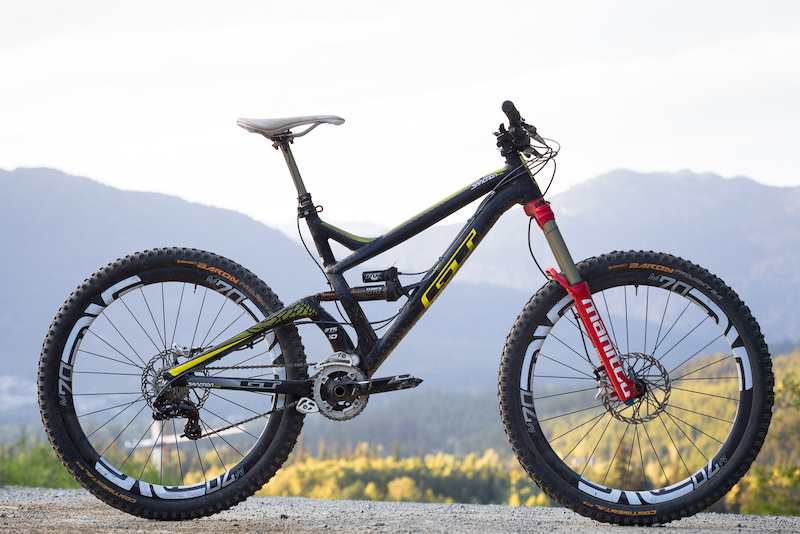 The
Sanction
was built with a purpose, and that purpose isn't toddling along on gravel rec paths or setting hill climb records. No, this is a bike designed for speed, specifically the downhill variety, a purebred, no-holds-barred machine meant for the rigors of enduro racing. Out of all the bikes on this list, the Sanction is the least well-rounded, but that's because of its single-minded focus. It'll still get you to the top of the hill, but it's when the trail points downhill that the Sanction truly shines, thanks to a generous reach that gives it incredible stability at speed. Basically, GT have managed to shrink down their World Cup DH bike, the Fury, and create something with improved pedaling performance and a lighter weight, making it an ideal weapon for race day domination.
Ibis Mojo HD3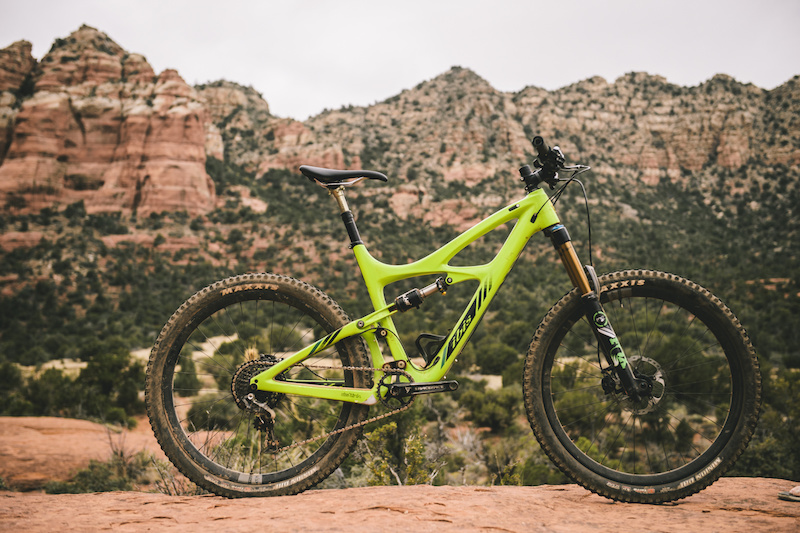 The hands down favorite during this year's round of bike testing in Sedona, Arizona,
Ibis' HD3
ended up being the all-star out of an impressive lineup of the top bikes on the market. It isn't one particular trait that makes the HD3 a crowd pleaser, but rather the ease at which it can tame any type of terrain, whether it's a steep, switchback filled climb or a tricky, chunky descent. Pro-level skills (or speeds) aren't required to get it to come alive, which makes it much more versatile, and in many case more enjoyable, when compared to some of its contemporaries. Ibis have imbued the HD3 with a commendable mix of quick handling and downhill stability, a balance that can sometimes be difficult to find on bikes in this travel bracket.
---
Stay tuned for more PB MTB Awards nominees all month.