Sam Hill would be fined for Spandex Doping today. Will the
speed advantage of 650B wheels also fall under scrutiny?
Should DH Bikes be Restricted to 26-Inch Wheels?
Pre-season tests comparing the mid-size 650B wheels with their conventional 26-inch counterparts has not been promising for those in favor of the latter. Fox Racing Shox, has been testing its suspension concurrently with teams that are outfitted with 650B and the report is a time savings of over a half second a mile. Intense reports better. Strava times on their very technical home course varied between three and nine seconds better on virtually identical bikes and builds. Recently, Pinkbike has done side-by-side testing of 650B and 26-inch DH bikes with comparable results. With the top five riders often finishing within two seconds of each other, all eyes will be watching the first few WC DH events to see if those preseason results will translate into race-winning performances. If they do, trouble may loom on the horizon.
The UCI, in its infinite wisdom, has repeatedly banned technological improvements like aerodynamic shapes and body positions, and enforced minimum weight requirements to many racing bicycles in an effort to minimize the impact of mechanical advantages in order to produce a version of cycle racing that is man versus man. The ban on skin suits for DH was based upon the supposed evidence that Tracy Moseley may have shaved one second or more off of her time while winning the Australian WC DH by Spandex Doping. Those in favor of the ban, argued successfully that ballistic nylon parachute pants and size triple-X Moto-style jerseys flapping in the breeze should be mandated
pret-a-porter for Pro DH racing. Granted, motocross gear looks pretty butch, but arguably, the Moto style was adopted without technical consideration and thus, the ban effectively curtailed the future development of kits specifically engineered for the needs of DH competition in the name of current fashion.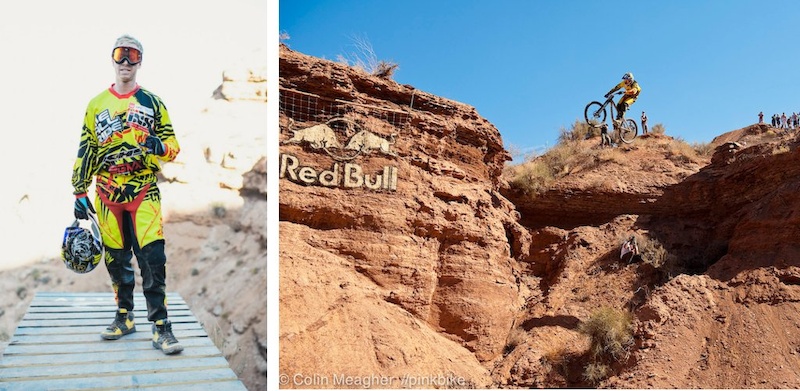 Logan Binggeli and KHS first put the stamp of approval for 650B wheels on DH bikes with his third place performance at the 2012 Red Bull Rampage. This season we will see if the mid-size wheels will do as well in World Cup DH competition.
Of course, this is all speculative, because as far as we know, the UCI is not considering a wheel-ban at this time. That said, if the UCI is silly enough to consider a useless visor to to be mandatory safety gear, or to force a no-spandex ruling, then it should come as no surprise that somebody might, at this very moment, be successfully pushing the UCI behind the scenes to ban alternative wheel sizes. Spandex became a banned substance after it was suspected to provide a mere, one-second advantage. My God man, if 650B wheels could give a guy a three-second advantage at Fort Bill, it would be like, um, CHEATING! I am sure that some would agree whole-heartedly. Locking in 26-inch wheels for downhill bikes may be OK, provided that it could be proven that the present DH bike has reached the zenith of its performance, but that is highly unlikely.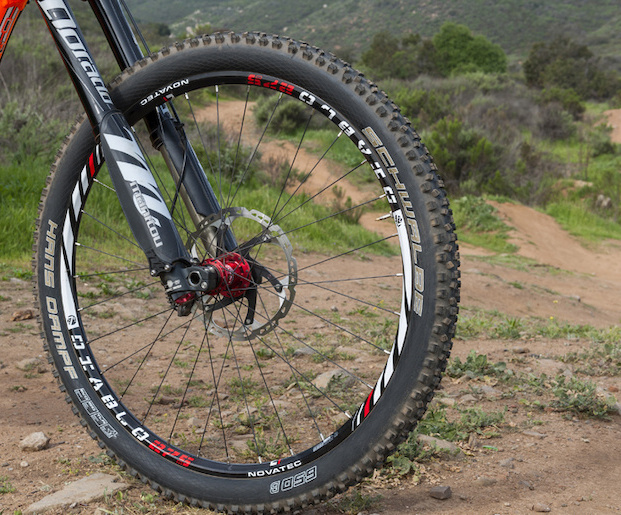 Intense has been testing prototype 650B DH bikes for
nearly a year with favorable results. This season, a full
complement of DH forks, wheels and tires are available,
so it's going to be no-holds-barred racing.
Have DH Bikes Reached Their Pinnacle?
The proof that there is a lot more performance potential waiting to be unlocked from existing DH bikes is laughably illustrated by the fact that the simple addition of 38 millimeters to the diameter of the wheels does actually make a difference. By comparison, the invention of a larger diameter wheel for DH makes accepted technology like remote-adjust suspension and dropper posts seem like rocket science.
My opinion is that mountain bike racing is an equal blend of mechanical and human kinematics - especially so for downhill - and that there should be no restrictions imposed upon technological improvements to the bicycle beyond safety considerations. I also think that the DH bike, as we know it, has a lot of potential for improvement. If the 650B wheel does become a game-changer this season, I would much rather see it inspire further innovation than to evoke a knee-jerk response from rule-makers and become the line in the sand where significant DH development was stopped in its tracks.
---
Take the Pinkbike Poll
---