The original Spartan hit the scene in 2014—a descendant of the bike that debuted beneath Steve Smith at the 2013 DH World Championships—which is saying a lot, right there, about the Spartan's strong suit: Going downhill, fast. You're looking at Spartan Version 2.0, which officially hits the streets today. In a nutshell, this is a lighter, stiffer and better pedaling flavor of Spartan. Here's a first look at the Spartan and few quick impressions on how it all adds up on the dirt.



DETAILS

• Intended use: enduro
• Wheel size: 27.5"
• Front-suspension travel: 170mm
• Rear-wheel travel: 165mm
• 65º or 65.4º head angle via a flip chip
• 4 carbon models/2 aluminum models
• Complete weight (X01 Eagle): 29.25 pounds
• MSRP: $3,359 to $9,069 (complete bikes)
• www.devinci.com
WHAT'S NEW?
The most obvious departure from the Spartan of yore is the suspension layout. The new Spartan adopts a vertical shock mounting arrangement. Devinci contends that there are several benefits here. For starters, you can now fit a full-size (24-ounce) water bottle in the front triangle on every Spartan—including the size small. Moreover, the new arrangement led to higher seatstays, which creates a more open rear triangle and improves lateral stiffness.
Though no one was slagging the Spartan for being a flexy flier in the past, "stiffer" is invariably a design goal. To that end, Devinci also upped the stiff factor by ditching the aluminum chainstays found on the first-generation carbon Spartans in favor of full-carbon chainstays. That move to carbon also netted Devinci about half of the 310-gram weight reduction on this new model. The company shaved 160 grams with the shorter, carbon chainstays and trimmed another 150 grams worth of nips and tucks elsewhere on the chassis. A carbon Spartan frame now tips the scales at 7.14 pounds (3,240 grams). Our size large Spartan X01 Eagle test bike weighs a very respectable 29.25 pounds, sans pedals. At left, you can see how the new (red) and old (gray) frames stack up against one another. The new frame features a lower seat mast; accordingly, Medium, Large and Extra-Large carbon frames are all compatible with 170-millimeter dropper posts.


What else is new? It's a Boost world these days and the Spartan rocks the wider fork and rear end (110 and 148, respectively). Devinci kept the rear travel at 165 millimeter, but opted to go with a 170-millimeter fork this time around; they feel it gives a more balanced feel and just flat out makes sense given an evolution of enduro courses, which continues to trend towards the aggro. That vertically-mounted rear shock is a metric-flavored RockShox Super Deluxe RC3. Going with the trunnion-mount shock, says Devinci, helped them maintain a low standover height on all their models. Always a good thing. Devinci also notes that their new suspension layout and link better isolate the rear shock from side loads than the previous configuration, which should help extend its lifespan. Speaking of shocks, the Spartan frame also plays nice with coil-sprung shocks.


The past three years have seen bikes grow longer, lower and, yes, slacker. Same drill here. Reach on the Spartan grows by about 30 millimeters and the overall wheelbase stretches about 40 millimeters, as the head angle is a tad slacker than before. Rear center is actually shorter, as Devinci was able to trim two millimeters from those chainstays.

The Spartan, like many other Devinci's, features a flip chip. In the past, most people simply ran the bikes in the Low setting. Given the new, slacker geometry, some people might actually find themselves opting for that High flip-chip setting this time around--at least, that is, if they are clipping pedals all the time. In the High setting, the head angle sits at 65.4 degrees, which is still relaxed enough for high-speed descents on lumpy-as-hell trails.

SIX MODELS & A WIDE PRICE RANGE
Here's the part of the article where people get pissed off about the price. The top-shelf models do, in fact, cost a pretty penny. There are two roughly-equivalent models (one with an XT Di2/XT brake spec and the other wearing X01 Eagle and Guide RSC's) that are up there in the stratosphere. That said, there are two lower-priced, carbon-framed models wearing the same frame and Super Deluxe RC3 rear shock.

Starting price for a complete carbon Spartan? $4,539. While I'm not suggesting that I have four and a half grand in pocket change beneath my couch cushions, it is a fairly competitive bid for a complete carbon bike. For my money, the GX Eagle version of the Spartan presents the best value in the carbon line-up (it also wears a Lyrik, Reverb dropper and isn't smuggling a weak widget anywhere on bike.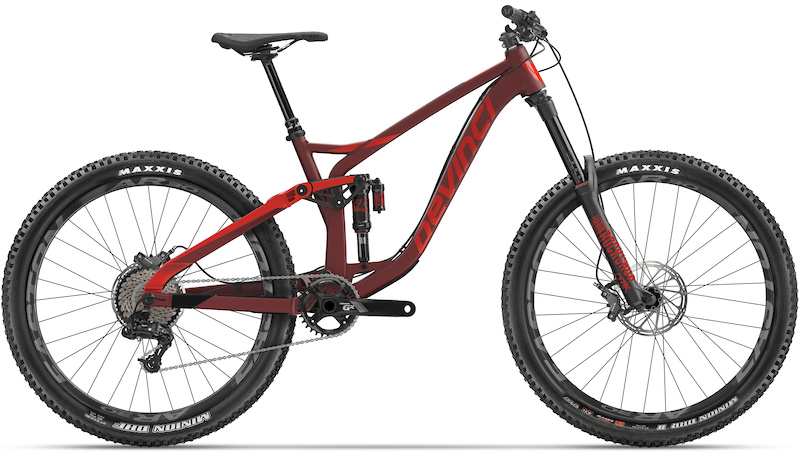 The Spartan is also available in two all-aluminum models.
Not feeling the carbon thing? There are also two made-in-Canada, aluminum-framed Spartans. Aluminum models start at $3,359. You can check out the full specs below.
---

I've had the very subtle, purple and green Spartan Eagle X01 model in the house for the past couple months. A long-term review is in the works. This being a "First Look" article, here's a few preliminary thoughts on the new Spartan….

Our maiden voyage was a tour through Bellingham's Chuckanut mountains. None of us was feeling particularly spunky, so we started the day with a shuttle—it's the kind of ride where you shuttle and still log a solid 2,000 feet of climbing on the "descent." I mean, there is plenty of descending, but there also long sections that you spend hunched over on the nose of your saddle, grunting and thinking to yourself, "Dammit….why are we climbing this much on the downhill?" Anyhoo, the point here is that the ride is a mix of big, root-laced rock sections, some tight and awkward corners, a few sphincter puckering steeps and the aforementioned bit of grunting and cursing the climbs.

For starters, I was always impressed with how deep and controlled the old Spartan felt. If anything, the new Spartan only gets better in that regard. On sections of trail where I am normally death gripping the bars, I found myself, instead, letting go of the brakes altogether and just plowing through at speed. Stupid levels of fun ensue.


On climbs, the bike has a few things going for it. For starters, it's pretty damn light for a bike in this class. That always helps. But it also pedals well—at least, a whole lot better than I expected it would. Yes, things get better when you select the middle compression damping setting on that Super Deluxe, but you don't absolutely need to add that mid-range compression damping to stop it from squatting every time you pedal. The anti-squat is pretty well dialed in here. On the other hand, the bike does sit a bit higher in its travel when you flick the switch, and on a bike this slack and long you can use the slightly steeper head angle to help with tight switchback climbs.
Okay, I better stop right here, because I'm about to go into full blown review mode…and that's going to have to wait for another day. But, yeah, such a review is definitely in the works because every time I walk into the shop, the Spartan has called my name. Deadlines have suffered in the process, though that's not necessarily a bad thing.
In short, full review coming soon. Until then.
---
MENTIONS:
@devinci
---